Turn Up The Music Of Your Soul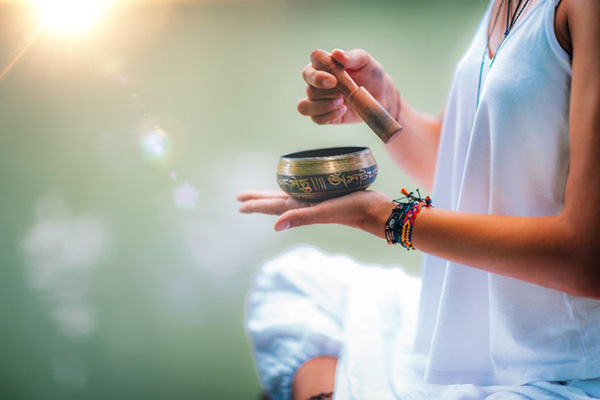 As have been pondering the miracle of sound and music lately. During these times of uncertainty, I have a collection of songs in my memory bank that I can easily call upon for inspiration. I use many of these songs to jump start my days.
Long after a popular song has been sung, whether it is a familiar hymn, a spiritual mantra, a national anthem, or a Top 40 hit, there is often a residual hum that we hold on to. This constant reminder, time and time again, brings us back to the original song, striking a chord with those emotions that were first charged by the lyrics and the melody.
Music lodges itself in our memories and can be brought forth at any time without actually hearing the tune itself. Sound or hearing is also said to be the final sense to leave as we depart this life. Kahlil Gibran, the great Lebanese writer and author of The Prophet, wrote "music is the language of the spirit. It opens the secret of life bringing peace, abolishing strife."
Growing up, I loved all types of music. My eclectic taste was universal and reflected artists from a broad spectrum of genres. I was also fortunate that my metropolitan city was host to artists from all over the world. And thanks to my older brother, whose work in entertainment law made him familiar amongst promoters and musicians alike, I was blessed to gain entre to many of these concerts, including backstage passes.
My favorite acts packed up their instruments from crowded cities and remote villages of the Far East and Africa, making many sacrifices to cross the Atlantic, and often shared between sets the perils of their journey. I likened their sound to ethereal gold, so precious that it would stay with me forever.
I was always amazed by the power of music to influence our moods as individuals, as well as impact entire generations globally. Understanding this power, I learned early on to be mindful of what I listened to and guarded my home against any music that did not uplift, heal or inspire.
Music is a prophecy of what life is to be, the rainbow of promise translated out of seeing into hearing ~ Lydia Maria Child
I encourage you to reflect upon a particular song that has been deeply meaningful to your life path. If there are no musical memories to pull from, I ask that you consider creating your own unique mantra, one that carries your personal vibration that can uplift you and charge your spirit when you need it the most. Think of this as an extension of your self-care for the soul.
It is no secret that we are living in a time when caring for the soul is not a priority, although it is a necessity. Many of us are currently physically drained, mentally and emotionally taxed, and surviving without thriving.
Our days generally begin with corporate or political mantras that are often shallow and divisive. These electronic missives have replaced the deeper, organic, life-serving spiritual mantras that were revered by our ancestors and still exist within our individual and collective DNA.
Where our spoken words should uplift and encourage, we now tune in to and mimic words that do the opposite. Where life should be free flowing like a verdant stream full of many wonders, we find comfort in stagnant waters these days.
Music is a higher revelation than all wisdom and philosophy. The mediator between the spiritual and the sensual life. The one incorporeal entrance into the higher world of knowledge, which comprehends mankind, but which mankind cannot comprehend ~ Ludwig van Beethoven
For these reasons, and so many more, now is the time to call on the familiar sound of an uplifting song or personal mantra. Now is the time to channel the hum of that powerful sound to break down barriers that impede us from living our best life.
As one of my all-time favorite musical artists, the late great Fela Kuti of Nigeria, once said, "Spiritualism is the understanding of the universe so that it can be a better place to live in."
I invite you to turn up the volume on your favorite inspirational song today, or perform your favorite chant, or simply dance around in your living room, and turn off the noise and distractions of the world. Keep seeking your best self in challenging times, in order to become your greatest self. Trust that by doing so, each of us can get back to the mission of divine fulfillment and transform our world into the phenomenal place it was meant to be.

About The Author: Shawna

Shawna lives in the American Southwest and is a third generation Spiritualist and Clairvoyant. She recognized her own gifts at a young age, fully embracing her calling as a Clairvoyant, Medium, Spiritual Astrologer, Tarot Reader, Aura Reader, Water Reader, and Healer, training under the tutelage of some truly gifted mentors. Shawna utilizes her natural psychic gifts to help individuals navigate through personal challenges and discover the higher manifestations of their life paths. She's provided positive, spiritually responsible, and ethical readings in-person, over the phone, and online, and has read for clients in Los Angeles--at psychic fairs--and at the Crystal Gaze Spiritual Center, in Lakeland, FL. She is also a trained practitioner in Clinical Herbalism (University of New Mexico), Ayurveda Medicine (San Diego College of Ayurveda), and Reiki. Shawna has channeled messages for political leaders, celebrities, and has accurately predicted the outcome of national campaigns, as well as a big career opportunity for a talented actor that resulted in a Tony Award! If you'd like an enlightening and empowering, full-spectrum of guidance, you can find Shawna at PsychicAccess.com.