The Many Lives Of You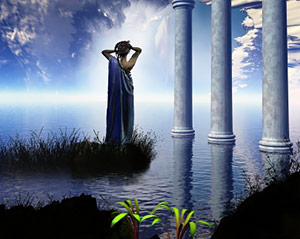 Have you ever had such a powerful sense of déjà vu that you couldn't shake it? Felt a strange connection to a certain place, or a certain period of history? Chances are, you're experiencing the memories of one of your past lives.
Because the laws of physics tell us matter can be neither created nor destroyed, all of us carry traces of our ancestors' memories. We also maintain memories of our former lives within our genetic code. How else can we explain certain people's ability, for example, to speak fluently languages they never studied, or play musical instruments without formal instruction? The answer may lie in their past lives. The good news is, past life memories are accessible to most of us, and it is not even necessary to seek the help of a therapist (although some do, and a good past life regression therapist can be invaluable in this quest.)
No matter how you arrive at the awareness and belief that you've lived before and will live again, the most lasting healing benefit will be the change in your attitude ~ Lianne Downey
Start by practicing a form of meditation most comfortable to you. Learn to listen to your unconscious thoughts, for they are usually clues to your past lives. Visualize. what sorts of things appear as patterns in your life? Are there numbers or letters that seem to "follow you" everywhere? Chances are these are important hints as well. Use a channeling device. For example, if you see a certain image, find a small totem in the shape of that image.
Keeping a dream journal is also useful for those interested in their past lives. Since dreams are a gateway into the unknown and our subconscious thoughts, images of past lives are frequent in our dreams. Are you dreaming of a distant place and time, such as ancient Rome or feudal Japan? Write down what you remember. Check out a book from the library or watch a documentary on the period if you can.
Past lives are a lot like tapestries; our recollections of them are built one thread at a time, and we only start seeing a complete picture after many of these threads come together. But they may not be the picture we expected!
Most importantly: use your discoveries as a learning experience, and don't be disappointed in what you find!

About The Author: Mystic Shelley

Mystic Shelley is a Psychic Medium. She has been reading for over 15 years helping and guiding people. She uses my 8 spirit Guides during her readings. She reads in the area of love, relationships, career, money and all matters of love. She will give you only honest and direct answers. Get a reading with Mystic Shelley now at PsychicAccess.com