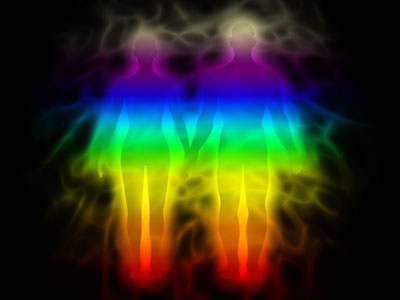 I recently came across a photograph of myself which was taken using an aura imaging camera. The aura camera is a bio-feedback imaging system which translates a person's energy measured from electromagnetic impulses of the hands into an individual pattern and personal colors which represent the aura.
The pattern of vibrant colors is overlaid onto an instant photograph of the person, to give a visual impression of what an aura would look like to psychics and mediums who are able to see auras.
An aura photograph gives us information about the physical, emotional, mental and spiritual balance of a person at the time it is taken, and can therefore be used as a basis for further analysis of an individual's potential.
The photograph of my aura I recently found is 17 years old, and was taken at a psychic fayre in London. In hindsight, that photograph of my aura was very relevant to what was going on in my life at that time, and really accurate. Read the rest of this entry »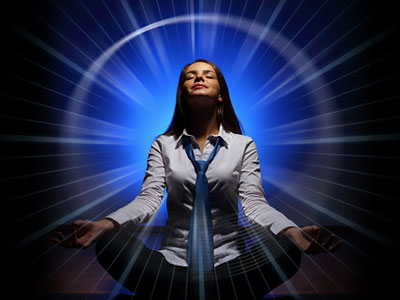 It is recommended to begin all spiritual activities, meditations, intuitive development exercises, as well as energy or healing work, with a basic psychic protection routine. A well-designed grounding, centering and shielding meditation or visualization exercise will create a solid safeguard and meditative energy foundation for any kind of spiritual practice session.
Centering is the process of anchoring and centralizing your inner, non-physical being within your physical body, while grounding (or earthing) refers to strengthening or reaffirming your connection with physical reality, the secular world and planet Earth.
Centering and grounding is therefore aimed at stabilizing yourself energetically, by firmly setting a mindful, harmonious balance between your body and soul, between the spiritual and the secular, between the physical and the metaphysical. Being grounded and centered is to feel safe and securely anchored in the physical world, while opening up to increased energy flow, and metaphysical or spiritual input. Read the rest of this entry »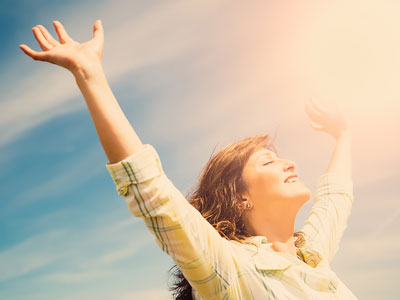 We never push. We never force. Our wish is never to overwhelm. So, if you are feeling any of these emotions during the current energy explosion, ask your spiritual council, your ascended masters, and your angels, to slow down.
We would like you to imagine a gauge within your mind. A gauge that you have full, total and complete control over. This gauge you can either turn up, if you wish to experience more, or you can turn down if you are feeling overwhelmed or that things are going too fast. Too much change may be occurring for you to be able to keep up with. Or you can simply fine-tune the gauge like a radio tuning in to your favorite station. Read the rest of this entry »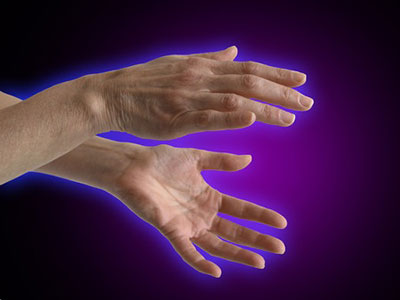 I am often asked if I can see auras. Yes, but in all honestly I see them only with deliberate focus and, in using techniques I learned in psychic development. I am more of a clairsentient when it comes to perceiving someone's Aura. I 'feel.'
The aura is an expression of a person, animal or any living being's emotions and energies – physical, etheric, astral, mental and spiritual. It's a subtle emanation surrounding the body, almost like a light cloud or luminous mist. The aura reveals one's character, state of health, as well as one's emotional nature and stage of spiritual development.
Bright primary aura colors are associated with good health, i.e. red, orange, yellow, green, blue, indigo and violet, whilst colors which have become dark or muddy in appearance are generally associated with disease or energy imbalances. When a healer examines the quality of the colors in the aura, he or she will often make an informed diagnosis. If a healer is really skilled, they can remove any offensive energy and bring one's auric field into a healthy state of equilibrium. Read the rest of this entry »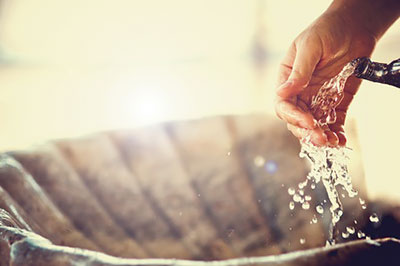 Your home is your refuge. It is where you re-charge your energy like a battery. It is so important to make it a sacred, safe, healing place for you and your family.
Most Feng Shui masters say that clogged sinks and shower drains, as well as plugged up toilets, stagnate energy and block prosperity, abundance and wealth. They deplete finances.
Stagnant water creates mildew, which has been known to cause respiratory problems, neurological problems and can weaken the immune system. Stagnant water also can create an energy flow issue with travel, ambition and energy. If you are feeling low energy, especially if it is only when you are in your house, check your drains! Read the rest of this entry »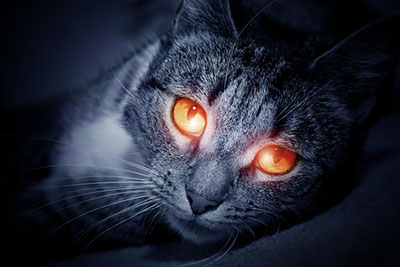 Cats are often depicted in ancient Egyptian art and artifacts. The Egyptians actually worshiped cats as gods, and believed that they took on a spiritual importance. They were considered to be a sacred animals with magical powers.
Ancient Egypt was said to be one of the most advanced civilizations in human history, capable of architecture, that by today's standards would be difficult, if not impossible to construct. But, did they also possess otherworldly knowledge that has been forgotten?
Some myths and folklore also claim that cats can walk in and out of the spirit world with great ease and at will. It was also believed that when a house cat would disappear, with no plausible explanation, that it had found a portal to the other worlds and is exploring them and will return just a mysteriously as it had disappeared. Read the rest of this entry »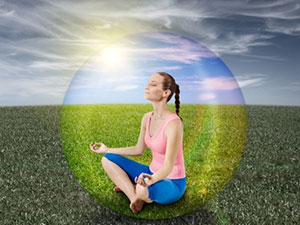 Empaths are very easily affected by other people's feelings and emotions, so their energy levels are highly susceptible to their energetic environment. Therefore it is vital that empaths learn to properly shield themselves from unwanted negative energy.
So how do you stop unwanted negativity from entering your energy system? How do you comfortably go through your day not being a sponge for all the feelings, emotions and energy of others? It is actually quite easy to shield yourself and maintain your boundaries once you practice a little.
First, you can cleanse your own aura when you get home with sage smudge sticks, or smokeless sage mist to remove any unwanted energy from your day. You can carry stones and crystals that ground you and absorb negativity, like apache tears or smoky quartz, on your person. Read the rest of this entry »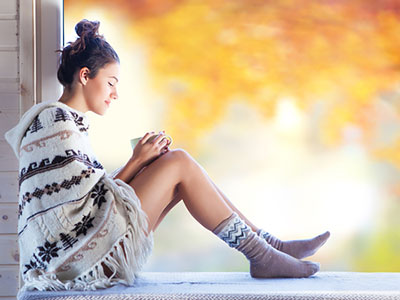 With so many unexpected world events recently, a lot of people are feeling stressed, dismayed, worried and anxious. In such perilous times as we are currently facing, it is vitally important to practice self-care.
What do I mean by self-care? From an intuitive's point of view, after years of working in the psychic field, I have learned that it is important to take care of yourself first and foremost. Is it selfish? Definitely not. It is selfish to take care of everyone else around you, without taking care of you first. You will not have anything to give of yourself if you do not give to yourself first.
It is like being on an airplane, and when the plane is going down, the oxygen masks come down. If there is a child with you or a frail, elderly person, it is best to put the oxygen mask on yourself first and then the child or other person. Because if you don't, you will probably not be able to help them. Read the rest of this entry »