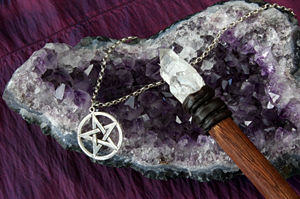 It is said that "the wand chooses its master" and this is the story of how my wand came to be with me.
Several years ago I worked as a full-time reader at an area psychic store. I loved my job and my clients. The location was perfect and I looked forward to going to work every day. One special day, however, was the start of my journey towards receiving my magic wand.
It started as a normal day with clients coming in to see me, psychic readings to do, and books to marvel at and glance through.  I'd had lunch and was sitting in my room preparing for the afternoon's arrivals, when I heard the jingle of the front door.
I knew, somehow, that the jingle was meant for me, although I wasn't expecting anyone for at least another hour. So, I got up and walked towards the front of the store and there was a short, and forgive me for saying it, rather unattractive and ordinary looking man standing there looking at me. He appeared ordinary until you looked into his eyes. They contained wisdom – and something more. I eventually learned that the 'something more' was a certain disdain for the human race, but that's another story. Read the rest of this entry »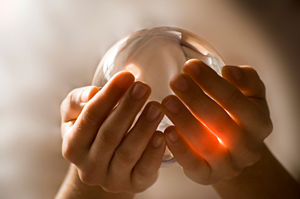 Throughout the ages psychics have been the gatekeepers of the mysteries that are revealed through the anicient practices of divination.
Divination is the self-realization of your own intuitive process. Intuition is the seed that is planted deep within the soil of your psychic consciousness. When the seed of intuition takes root in your consciousness, through the process of divination practice you will begin to experience the psychic realm.
The psychic world is a mystical place where you can explore deeper knowledge and wisdom that is revealed though the practice of divination. Divination is the key through which psychics connect with their own intuitive potentials, to have an awareness of the language of symbolism that is within our consciousness. Read the rest of this entry »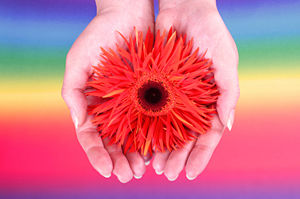 Color and color healing is a powerful tool that you can use on yourself and also apply to you environment, and to help those you love.
We vibrate to color. Our chakras have different colors, as do our auras, and these are constantly changing based on our circumstances, mood, and health.
Science has caught up with the spiritual arts with clinical trials that use blue light-emitting diode (LED) lights for wound healing and treating some mood disorders, as well as infra red for mood disorders. The Ayurvedic system of healing goes further, incorporating the use of gemstones, which is also color based, for healing, and mood enhancement.
I like to teach people to work intuitively with color as a starting point, rather than teaching a prescribed color therapy system, as I feel this develops more of an initial feel for color. One can find a  formal system later, if so desired. Read the rest of this entry »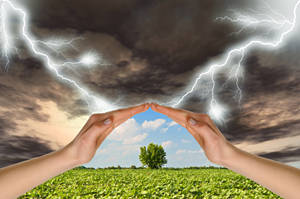 I decided to write a blog about psychic protection, because so many clients ask how to best shield themselves from negative influences. When I speak with people about psychic protection, I usually find that they generally either don't understand its importance, or they need to better understand how we come under the influence of negative forces.
You may remember from my recent blog, entitled You Actually Have Two Bodies, that we each have an astral body that resides on the astral plane, which is located above the physical plane on which our physical bodies function. The two bodies interact with each other through electromagnetism – the positive and masculine energy of the Sun and the negative more receptive or feminine energy of the Moon.
The astral body is really the 'soul'. It contains the sum total of a person's experiences as well as the manner in which they have assimilated these experiences. Psychologists often refer to the 'unconscious mind'. This is, in effect, the astral mind, which we can access through visualization, meditation, and hypnosis. Read the rest of this entry »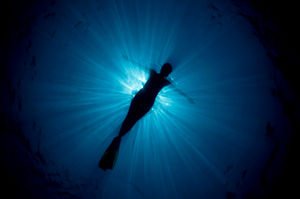 The Psychic Well is where I go, or where I am sent to, every time I do a reading. I also go there when I do Reiki, when I write an article, or when I write a poem. The Psychic Well runs deeper than you may ever believe, and I include myself in that concept, because of what happens each time I go there.
As a Tarot card reader using Numerology, Astrology, auras and deep intuition, there are always days you don't think you have any wisdom left to share. You feel as if you have no more empathy with which to feel another's pain, because just as with any profession, you can suffer burnout.
Psychic burnout can be crippling for a healer, psychic reader or spiritualist medium. You can become almost paralyzed by it. You want to work, because it's what you are meant to do. You want to write, because that's all you know how to do. But you are unable to do either. The Psychic Well beckons you, but you have no energy to make it there. Read the rest of this entry »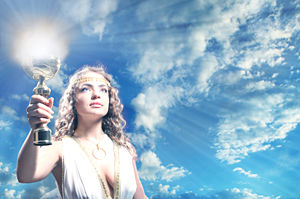 <<< Continued from Goddess Archetypes: The Goddess In Every Woman
Aphrodite is the goddess of love, beauty, fertility, creativity, sensuality, and even healing. She is totally alchemical and transforms anyone in her presence, as would an artist in any genre, a lover,  or a therapist or healer.
Her symbols include doves, swans, roses, apples, and anything with a golden aura. In her liaisons, she was paired either with Ares, god of war, or Hermes, Messenger God who guided souls to the underworld and who was the patron god of travelers, athletes, thieves, communicators, and musicians.
This archetype governs women's enjoyment of love and beauty, sexuality and sensuality. The realm of the lover exerts a powerful pull on many women, and she impels women to fulfill both creative and procreative functions. Read the rest of this entry »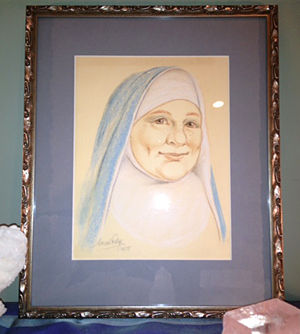 Few people realize that we actually have two bodies – one is the physical body that we require to function in this physical world.  One is an astral body that exists on the astral plane above the physical plane.  We come into this physical realm when the energetic blueprint is very similar to that of our soul.  This is why the planets at the time of your birth reflect who you are.  The astrological  natal chart is actually a map of the astral body, in other words the soul which developed according to the way in which we evolved pursuant to the sum total of experiences of consciousness.  This is why a good astrologer can read you inside out by perusing your natal chart.
When we take our first breath in this world, we inspire.  In other words, we draw spirit into our physical form.  The entrance of the spirit into the human body occur sthrough the generation of a chemical called N,N-Dimethyltryptamine (DMT) that allows the spirit to enter through the pituitary gland (the crown chakra). 
Maybe this is why a baby's skill is not fully sealed at that point?  It is this same DMT generated by the pineal gland that enables the spirit to expire when we are ready to transition out of the physical world.  But don't forget that everything that exists on the physical plane also exists on the astral plane.  This is why you have a physical body here on earth and an astral body on the astral realm.  It is also why some people see astral entities that do not exists on the physical plane – you know, the pixies and hobgoblins. Read the rest of this entry »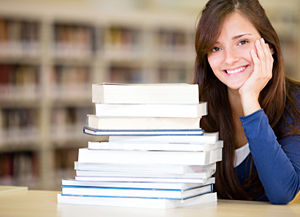 I just finished meditating the other morning and instead of logging on to work, like I had planned to do, I went to my local store. I was actually ready to do readings, but had remembered when I woke up that I also wanted to go down the local store, where I had been a few days before. While there I had noticed a girl who was deeply sad – her aura told me this. She was also crying, from what I could see, or had been crying before she came in to work.
After I zoned in on her, and was meditating to get any information that I could to help her even indirectly, I was getting visions – intuitive flashes of her and her boyfriend. I saw him being very mean to her and even cheating on her. She was living with him. I felt that if she stayed him it would just be bad – to the point where she may even have to go into a shelter for abused women. Read the rest of this entry »