The Sweet Nectar Of Romantic Relationships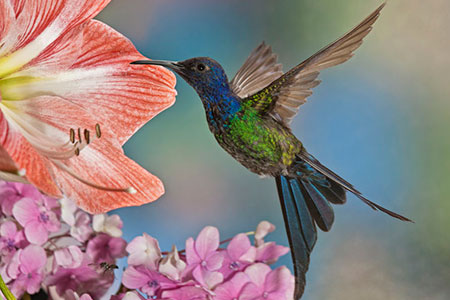 The energy of the hummingbird brings immense wisdom to be shared with us. When he appears it is always such a treat, as I have learnt so much from this amazing bird, including about love and romantic relationships.
When the hummingbird comes into my life asking to be painted, my vision blurs. I can then only see my artwork clearly and the brush strokes needed to finish his painting. I have learned that sometimes our own vision needs to become blurred, so that what we are seeking can be shown to us.
I have also learned that the 'narrowed vision' of hummingbird is vital to the health and vitality of our relationships, especially those of a romantic nature. When we keep our focus firmly on the present moment and the feelings we share with our partner in this moment, rather than on the negative thoughts, concerns or expectations, we blur out the noise.
This allows for a breaking away from the old energy patterns and lack consciousness that too often govern the roles played out in our relationships. It allows for a simplicity to arise in the communion and communication with our partner.
The hummingbird gathers nectar from the flower through its power of focus and natural instincts. It trusts its own innate nature to choose the flowers that will nourish and feed it. Finding trust in our own feelings and intuition is important, so that our relationships are nourished and allowed to blossom from within.
Love is like a beautiful flower which I may not touch, but whose fragrance makes the garden a place of delight just the same ~ Helen Keller
Relationships also become cloudy and unclear when the thoughts and opinions of others cloud the communications of our intimate relationship. Each relationship is sacred. Although relatives and friends may mean well, only those actually involved in the relationship truly know and understand its dynamics. The hummingbird often comes through in readings for my clients, when the relationship has become entangled with outside influences. He comes to show the dynamics at play that may inhibit love from blossoming.
Hummingbird reminds us to pause and reach deeply into our own energy field, to know and understand the vibration of our union with ourselves and our partners. It is not always easy to feel into this awareness amidst the noise of day to day life – especially when juggling family and financial commitments. Taking time out to spend with your partner in nature helps to bring clarity, as Mother Nature reminds us to strip things down to basics.
It's also healing to allow for time to be in silence with one another. As when we sit in a place of peace and quiet, we are able to tune our senses into what we feel, rather than what we are thinking. It is from this place that we are able to express more clearly what we desire and need to experience in our relationship. It is these subtle shifts in energy that are often the most powerful and healing.
When you reflect on your relationship, ask these questions to guide your enquiry:
Is the relationship expansive?
Do you feel you are both encouraged to grow and explore new things?
Are you feeding from the nectar and nourishing each other and the love between you? Or is your focus on the exterior elements of how you relationship looks to others?
If you're in a relationship that is not working, and makes you unhappy, are you fearful to leave because of what others may say?
It also helps to taking our focus off our partners and back into our own energy, and what makes us happy. Sometimes, when we focus on making the other person happy, we forget to nurture ourselves, and simple things like hobbies and other friendships are often put to the side. We literally stop seeking the nectar of our own life.
Don't over-analyze your relationships. Stop playing games. A growing relationship can only be nurtured by genuineness ~ Leo F. Buscaglia
Love between a couple is one of the sweetest nectars of life. When we feed from this nectar, we create in other areas with more ease. Things seem to flow with more joy, and we notice that each cloud does have a silver lining. So, even when we lose sight of our partner, there is always a way to return to a newer and deeper place of togetherness.
Just as the hummingbird gathers nectar without causing harm to the flower, so too can we cause no harm to ourselves or others, but rather uplift, inspire and bring a sense of freedom with our love.
To bring this awareness into your current relationship, take some time out to reflect on the qualities you bring to each other:
What are the qualities you value and cherish in your partner.
If you are single, what are the qualities you bring to another?
What are the gifts and experiences you can share with a companion? The nectar of the flower is symbolic of these gifts. Those qualities that you share on your life journey.
The Hummingbird represents, and is symbolic of joy, freedom and lightness. May you find this in your relationship. When you need a sign that it is within sight, may it be the wings of a hummingbird that reminds you. If you live in proximity to hummingbird zones, may you catch a glimpse of this special and magical bird in the wild.

About The Author: Cheanne

Cheanne's Divine gifts came to her in her early 20's, when this young Australian accountant felt suddenly compelled to take a creative art class. On the blank canvas, she saw a face that moved her greatly, and she painted it. The brush took on a life of its own, as she painted the divine presence of Buddha. We are not alone, she suddenly knew, and that feeling has stayed with her ever since! Messages and healing have come through her art work and from her Intuitive sessions that connect clients with spiritual guidance to navigate through life's changes and challenges. She also helps clients tap into and experience their own unique gifts. Since 2013, Cheanne's helped business owners achieve their creative visions, she's provided clients with portraits of their Angels and Guides, and she's channeled messages at New Age Festivals, Expos, from her local practice room, home studio, via phone and internet, and through the dozens of group workshops and intimate retreats she's provided. Her unconditional, loving support has touched thousands, and acts as a bridge to connect clients with a powerful, Divine Guidance. You can find this unique and wonderfully talented Intuitive at PsychicAccess.com.


This site uses Akismet to reduce spam. Learn how your comment data is processed.