Using A Wand To Enhance Good Intention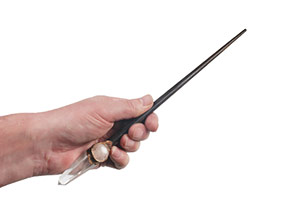 I like to envision my wand as an energy tool which harnesses and directs good intention, as a means of bringing about change in myself, another person, a pet, or a situation.
I use my wand mainly to project healing energy onto a person who happens to be in a healing session with me, or I use it remotely, using a photo or an item belonging to the recipient of the healing. With the help of my wand, I project healing to shift blocks, or to heal wounds; even to work on pulling out pain or negativity. When I do a healing session, which involves pulling out any negativity, I ensure any negative energy is transmuted by asking for help from my spirit helpers. Then I also offer a prayer for the violet flame to transmute that negative energy, and finally, on cleaning the wand itself.
A good intention clothes itself with sudden power ~ Ralph Waldo Emerson
A wand is a very powerful tool for effecting change and must be used with responsibility, and a lot of respect. I never do a healing without the other person's permission.
Wands have been used throughout history in many cultures and are said to have been used in the lost city of Atlantis, filtering down to Europe, Africa and America. And, of course, their legacy is to be found in the scepters and staffs used in royal households, parliaments and by church leaders. Wands have resurged in our society through a growing interest in alternative religious traditions like Wicca, Shamanism and various energy healing modalities that have become more widely known in recent years.
Generally wands sold in metaphysical shops have the shape of a sphere on the end, tapered down to a point through which one's full intent is channeled. Many traditional wands are made from live wood, whereby one focuses on tuning into the consciousness of the tree and ask if you may take, as a gift, a branch of the tree, asking that the tree's energy and vibration remain. The tree is then thanked for its generous gift.
Power is the capacity to translate intention into reality and then sustain it ~ Warren Bennis
Images and thoughts we project from the mind exert great power, so pointing our wand at another person with good intention enhances that force. Work with a wand should only ever be done with pure and good intention. The use of gestures and symbols can further enhance the actions of the person using the wand, based on what they mean to the user. For example, making a spiraling gesture can represent the motion of the heavenly bodies, and the star on top of a 'fairy godmother's wand' can represent the astral forces at play. Wands can also be augmented with charms, ribbons, feathers, crystals and stones, or anything else which carries symbolic meaning for the user. Metal wands are very conductive and popular. To amplify energy, metal wire can be spiraled down the wand from one end to the other.
The best technique for creating your own personal wand is to use  your intuition. Feeding your passion to its creation will only enhance its special meaning to you.

About The Author: Shani

Shani is a qualified practitioner in Reiki, aromatherapy, reflexology, body spin, and animal telepathy who received psychic development training at the Arthur Findlay College of Psychic Research in England. A published writer, her articles and predictions have appeared in several respected magazines and on psychic websites, and she has read for many celebrities and even heads of state in Africa. Though she was born in London, Shani has traveled the globe and has studied the art of African Mysticism, bringing her unique flavor to those seeking her incredible talents. Get a reading with Shani at PsychicAccess.com.