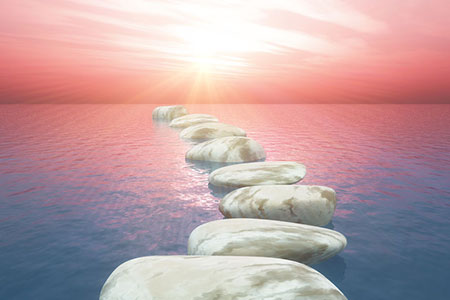 I used to have a sign on my desk at work that said, "No negativity!" I found that most of my co-workers responded well to this message. The majority of my interactions, even the challenging ones, were pleasant.
Naturally, there were inevitably a few contrary folks who would see my sign and say smugly, "Isn't no negativity a negative message?" To which I would smile and respond, "Two negatives equal a positive."
Sometimes, people would approach me and say, "I respect your sign, but I'm just not feeling positive today." I would then do my best to be sympathetic. "It's okay," I would say, "I'm not asking you to be positive. I'm just asking for you to not be negative." I would then try to remind them that most things are not simply black or white.
People typically only think in terms of positive and negative, and completely forget about the third option, namely neutral. There is no need to fake being happy when you are not. But there is also no need to choose the opposite reaction, by jumping into the arms of misery or gloom.
No matter how naturally positive or optimistic a person may be, there will always be times in everyone's life, when they just aren't feeling upbeat or enthusiastic. Telling them someone to "think positive" or "just smile" doesn't really help in those moments. In fact, it can make a person even more upset or frustrated, because it seems like other people don't realize the extent of their pain. It can also make a person feel depressed or guilty about even having natural human emotions.