Recipe For Attracting Zen Love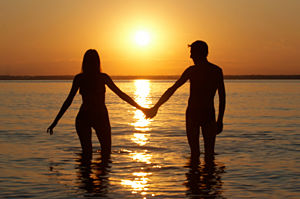 I have spoken with many people who really want someone special to come into their lives, but it never seems to happen for them. They wonder why they can't connect with anyone, why they can never find true love.
I have witnessed many times that the basis of this problem lies in the fact that people either want it too much, or that they turn themselves and the other person they are trying to attract into magnets that push each other away, instead of being attracted to one another.
To attract what you want into your life, you have to let go and essentially focus on it without force. Stay clear of any negative emotions, as that will not help in keeping you in Zen.
Incredible change happens in your life when you decide to take control of what you do have power over instead of craving control over what you don't ~ Steve Maraboli
'Zen love' is finding someone when you are not really looking. It is when you are wanting it, but not wanting it to the point where it just won't happen. I equate it to thinking of someone then letting the thought of them go. It is usually when you let it go that they suddenly call on the phone.
You put it out there then let it go. That is being in Zen. Not forcing it. Going on with your life and staying positive while you just have this inner knowing that all will be well. This inner knowing without added force allows good things to come to you.
So, if you really want someone special to come into your life, be proactive. Get out more, move around, do something. Go to the library, or a sports event or a social gathering, but not with the intent to find love there. Just be happy knowing your worthy of love and that you're open to the universe to bring it to you!
Just put your desire for love out there, like putting a fishing line in the water and then forgetting that it's there. Enjoy life and allow all that is good to come into your life. Saturate yourself with the greatest amount of bliss you can think of, by not forcing it. You will see that living in Zen will and can work for you in love, and in all areas of your life!

About The Author: Moon Goddess

Moon Goddess is a third generation empathic healer and seer. She started to give healing readings to people more than 20 years ago. She has always been interested and studied all things metaphysical from a young age. Being hypersensitive she can feel and see things before they happen. Utilizing the Tarot, and with the help of her Guides, she is a source of support for many people all over the world. After he passed over, her grandfather kept his promise and came back to say goodbye and gave her the most amazing experience. Moon knows there truly is a Heaven, and it is wonderful! Sharing her experience has helped many people after they have lost someone, or anyone experiencing some form of grief. Get a reading with Moon Goddess now at PsychicAccess.com.