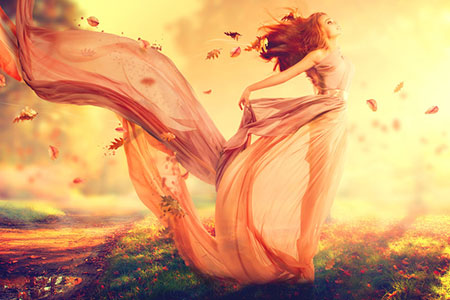 I've often wondered if in a former lifetime I might have had a birthday in the fall? More specifically, I sense it must have been in the month of September, because I typically experience increased awareness and great change during this month.
Being a Gemini, born in June, this makes absolutely no sense, but I don't always pay attention to what makes sense. I rather go with what feels right.
I feel a special magic in the air in the fall that I do not experience in any other season. In the autumn the world of the living seems to move closer to the afterlife and our deceased loved ones.
Traditionally All Hallows' Eve on October 31st is believed to be time when the veil between the two worlds is most thin and we can more easily connect with our departed loved ones on the Other Side.
In the Northern Hemisphere September is the time of year when Mother Nature is shedding her leaves as the cooler air moves. Might this also be a time for us to let go of the aspects of our lives that no longer serve us? And could it be that our deceased loved ones in Heaven support and help to facilitate this need for us to surrender and let go?
The energy of September is an in-between state of transition that will ultimately spark us into new beginnings. But sometimes we need a little bit of extra magic, as it takes much courage to let go of the old and familiar to step onto a new path.
Our family and friends in Heaven want to see us progress and grow while in the Earth realm. Our loved ones who have crossed over to the Other Side can see forward and backward in time. They have the ability to open doors for us who are still in this life.