Stay Calm And Keep Pluckin'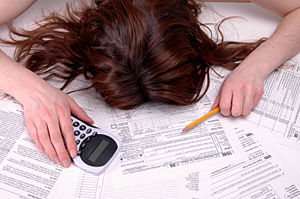 I was doing my taxes recently. I was very calm and in a meditative mode. Although I did not really want to be there, I was going to allow myself to have the complete experience by being in the now!
If you have to deal with something you do not look forward to, try to embrace and enjoy it. Get the lesson out of it, if there is anything that you can learn from it. It made my day so much easier and way more fun.
While I was there, I couldn't help but overhear the ranting of a less-than-happy individual in the next booth. I felt bad, because, well, we are all only human and this is about paying taxes for goodness sake! We can hardly blame others for reacting in such a way. I mean, who really enjoys doing their taxes?
Whatever the present moment contains, accept it as if you had chosen it. Aways work with it, not against it. Make it your friend and ally, not your enemy. This will miraculously transform your whole life ~ Eckhart Tolle, The Power of Now
But I do feel that it's better to stay calm and keep pluckin' along, because in the end all will be okay. Having a 'panic attack' like the fellow next to me won't make any difference to the situation, apart from making it even worse. I know from experience that keeping an inner calm always wins the day.
If you find keeping your cool to be a challenge, I recommend some meditation and visualization. It is awesome for bringing into your day the people and situations which you would want to come forward.
I pray for inner calm every morning before I go out to face the world. When I your are confronted with negative energy or emotional people it is possible to remain at peace with every moment, if you started your day with a grounded and centered state of mind.
About The Author: Moon Goddess

Moon Goddess is a third generation empathic healer and seer. She started to give healing readings to people more than 20 years ago. She has always been interested and studied all things metaphysical from a young age. Being hypersensitive she can feel and see things before they happen. Utilizing the Tarot, and with the help of her Guides, she is a source of support for many people all over the world. After he passed over, her grandfather kept his promise and came back to say goodbye and gave her the most amazing experience. Moon knows there truly is a Heaven, and it is wonderful! Sharing her experience has helped many people after they have lost someone, or anyone experiencing some form of grief. Get a reading with Moon Goddess now at PsychicAccess.com.