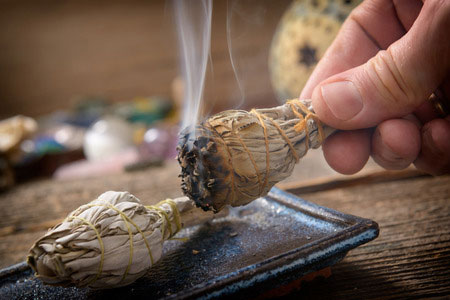 Doing a cleansing, purifying and sealing ritual will refresh your personal space, infusing it with restorative vibrations and a spiritual aura. You can use this ritual any time you feel the energy in your house is dimming, or to bless a new home or office. It will raise the levels of your own well-being, as well as your surroundings.
Supplies
3 white candles
Cinnamon incense
1/4 cup whole cloves
4 cups water
Sage or sweet grass smudge stick (or sage incense)
Quartz  crystals – one for each room in your house
Sea salt
Small bowls or dishes – one for each room in your house
Preparation
Gather the cloves, cinnamon incense, smudge stick, quartz crystals, bowls, and candles, and place it your kitchen. Wear white when performing this ritual and play soothing classical, or instrumental music. Center yourself with a prayer or short meditation to set the mood before you begin.