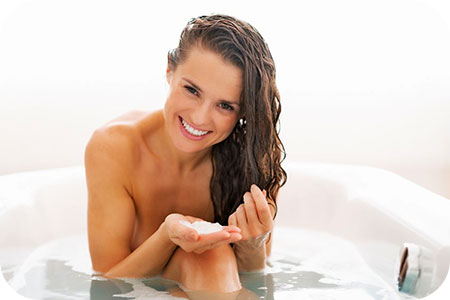 I love to take baths. I can remember enjoying a good bath as far back as far as my early teens. I have always loved the way it relaxes me – mind, body and soul. For the past 15 years I have been adding Epsom salts and essential oils to my baths. It's not only relaxing and soothing on all levels, but it helps me to quiet my mind and allow anything that is not serving me to seep out… down into the drain.
My favorite time to take a bath is after a day of doing psychic readings. Being an empath I think it is super smart to take daily Epsom salt baths. Empaths tend to absorb energy from others and it can weigh us down. Baths with salts helps us to detach and connect with our own energy, and let go of any drama and chaos that may have attached itself to us.
I do energy cleansing visualizations while taking my baths and it has become my daily energy cleansing ritual. The salt cleanses me from any negative energy that may have attached itself to me. I can step out of the bath feeling lighter, energetically recharged, and renewed.