Posts Tagged 'flowers and plants'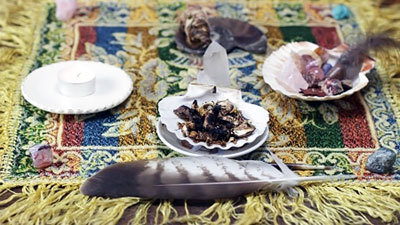 There is enormous power in prayer. There is enormous power in thought and intention. The ways in which you pray, think and focus are reflected in your physical, everyday life. Combining the spiritual and the mundane into your present moment can enrich your soul and enhance the quality of your life.
The ways of doing this are endless, but one way I enjoy is to create a personal altar. You can make an altar anywhere and place anything on it, as long as it represents the quality you want to concentrate on and develop. Creating an altar is very personal, because it is the way for us to connect with our spirit and align ourselves with our intentions. It helps to remind us of these things even in the midst of a busy day. Read the rest of this entry »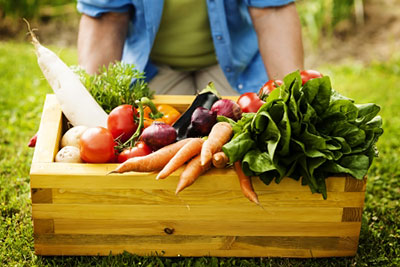 My relationship with food evolved the day I decided to start my own garden. I didn't have much space where I lived, so I rented a plot in a community garden nearby, for a very small fee.
Although it soon became a part-time job, it also turned into my sanctuary. Any stress from the day cleared when I went there. I was always eager to go there and visit my growing family of fruits, herbs, flowers and vegetables. It made me feel like a child again!
Connecting with the Earth on such a deep level also gave me a new perspective on my spiritual identity. From being inspired by fellow gardeners to teaching my son important life skills, I was motivated to get serious about treating my body like a temple and also raising awareness in others. Something I once took for granted and paid little attention to, became a great passion and concern for me. Read the rest of this entry »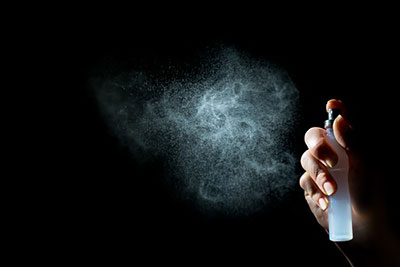 Remember the last time you changed out a dirty air filter from your air-conditioning unit, vacuum cleaner, or your car? Remember how clogged with dust it was?  In our living spaces, negative energies accumulate over time just like those 'dust bunnies.' Even though we can't see these energies, there is a way to clear them on a regular basis. Think of it as the spiritual version of house cleaning.
The first and most obvious step to take is to physically clean your space. Clutter and unwanted items work as repositories for negative energy, so it's important to get rid of it. After you're done, imagine the space being deep-cleaned with an indigo or violet-colored flame. Use this as a silent meditation, and picture the flames consuming all that invisible 'dust.' Read the rest of this entry »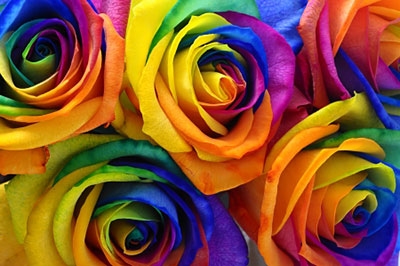 I have great faith in the emotional healing power of plants, their oils and how they can have a powerful effect on your well-being. The amazing healing properties of flowers, in particular, can be used to activate our body's energy centers, otherwise known as the chakras.
Root Chakra
Known as Muladhara, you will find this particular chakra at your spine's base. Consider it, if you would, the very plug that connects you to the life force of the Earth herself and assists you to remain grounded. When this chakra is in balance, you should feel secure and stable. Should it become imbalanced, however, you may feel somewhat stuck (or lost) in life and find yourself focusing on subjects that do not serve your greatest interests. Read the rest of this entry »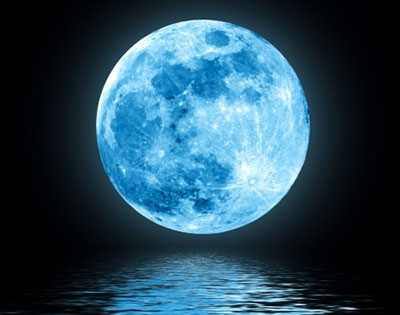 Today's August Full Moon is traditionally known by many names in different cultures. The Native Americans call it the Sturgeon Moon or Green Corn Moon, and some tribes also know it as the Red Moon.
In the Northern Hemisphere the August moon signifies that Earth's bounty is fully matured and ready for harvest. Wiccans and Neo-Pagans therefore often refer to it as the Wort Moon. Wort is an old-fashioned term for "plant" or "herb."
My favorite Moon legend is the story "Moon Waters" which originates from Colombia.
Many, many years ago there lived a man named Bochica who was highly honored among his people. Bochica was a very wise man and taught his people how to build sturdy homes to protect them from harsh weather, and how to plant fields and nurture them, so they would be able to reap the crops to sustain them until the next harvest. Read the rest of this entry »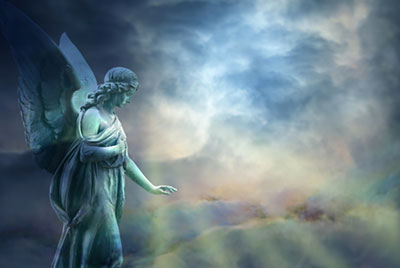 During a four-and-a-half hour surgery I had a near-death experience. I remember clearly going toward the brightest white light that I have ever seen, and haven't seen since. It was a tunnel with a bright light at the end of it. My beautiful angel, Shashunda, was with me the entire time.
When I excited the tunnel, my deceased grandparents and great grandparents were there, along with every deceased pet I had ever owned. They all were happy to see me, but then my great grandmother, Emma, told me I needed to go back.
I felt so happy, positive and beautiful that I really wanted to stay. Emma kept warning me that if I didn't go back, I would have to stay before my time. She told me about the grandchildren I would have one day and how cute they would be. She said, if I stayed I would miss out on spending time with them and watching them grow up. Read the rest of this entry »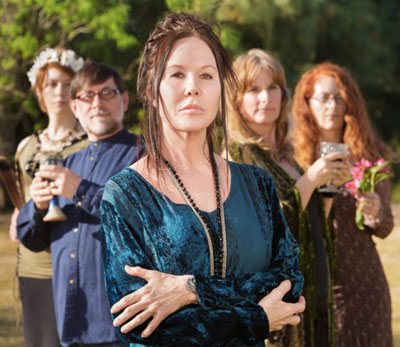 The modern stereotype of a witch is that she is an ugly, old woman with a hooked nose and pointed hat, riding a broomstick or stirring up a witches brew in a huge pot. In truth a witch is someone who practices magic as part of their religion or spiritual belief system, such as Wicca or Neo-paganism.
Witches worship nature and love the Earth; they do not worship Satan. That is a myth, just as much as the idea that witches are ugly and scary. Witches are beautiful and do no harm. They believe in the rule of three, understanding that everything we do comes back to us threefold.
The more we destroy the Earth, the more we destroy ourselves. A witch's purpose is to save the Earth. Witches relish their wild nature and align themselves with the cycles of the earth and the phases of the Moon and the stars. Read the rest of this entry »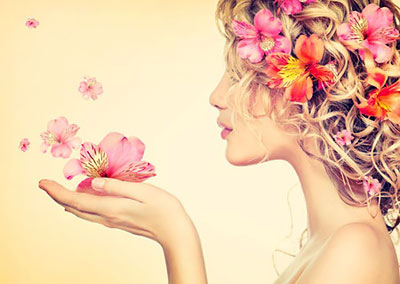 If you were to enter my garden in England, one of the first things your eyes may be drawn to is a gorgeous hanging basket full of purple petunias. I put it there for several reasons, and not just to gaze upon its beauty. No, it hangs where it hangs because of how it makes me feel.
Flowers are metaphysically powerful and can assist you in obtaining emotional and spiritual well-being. My purple petunias make me feel motivated and brimming with wellness. Okay, this may seem like a bold statement, but flowers truly are magical in that they can help enhance your productivity, overall happiness, soothe any sensitivity in your life and help to motivate you at the same time. And yes, they can do this for you by just looking at them. Read the rest of this entry »