Your Mental Garden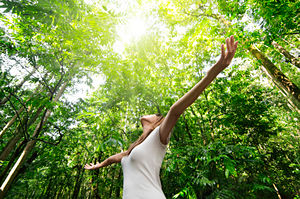 Our minds are like soil. We are constantly planting seeds of thought. If you could walk through your 'mental garden', what would you see growing there?
When I meditate early in the morning, I try and focus on a color to bring me to a quiet, relaxed state of mind. Today, I was thinking of the color green. I wanted to take a look at my inner garden, and nurture and fertilize it, and maybe do some weeding.
Walking through my garden, I asked that God help me to recognize my talents and abilities – those that I possibly never considered before. Maybe I can plant these new seeds f goodness, and continue to fertilize the ones that are already fruitful in my life. At the same time I will also be weeding out any bad seeds – the thoughts that are  growing there that are not serving me or my highest good.
He who has a garden and a library wants for nothing ~ Cicero
We need to take care of our mental garden, because it is with our minds that we are able to express ourselves to the world. It is through our minds that we share and contribute to the world. Our minds direct the gifts we brought to this planet to help make it a better place.
We are constantly giving birth to new ideas and thoughts through our experiences. We need to choose our thoughts wisely, just like the seeds you choose to plant in your garden at home. You want them to flower into something beautiful. Every single idea is a precious seed.
When you meet someone you can usually feel if there is a disconnect within them. You can see it in their actions, and their eyes, and how they communicate and express themselves. Many people, I find, have a constant negative movie playing over and over in the back of their minds, containing little parts of their most unpleasant past experiences. If they are not serving them, they should weed out those memories, or ask God to help them remember things in a different way.
We need to make sure whatever is growing in our mental garden is fruitful and beneficial to us. If there is dis-ease there, it can form disease in the body, and then our health can essentially suffer. Most health practitioners will tell you that a healthy attitude and outlook is very important to continued well-being.
Don't let the tall weeds cast a shadow on the beautiful flowers in your garden ~ Steve Maraboli
You can tell by just being around someone if their cup is half full or half empty. Sure we have bad days: we lose people we love; we may not be happy with this or that. However, we can get in sync with the stream of well-being that abounds in our world pretty easily, but only if we maintain and keep our inner gardens fresh and new, vibrant and healthy. It all starts with our thoughts. Those are the seeds we are constantly planting in our garden.
To be in balance with life we must stay vibrant and at peace in our mental garden. Just like rich, green leafy salad nourishes our physical body, the mental plants and flowers we place in our minds nourish us spiritually and emotionally. Once we have integrated both the physical and spiritual in a healthy way, we are in sync with our entire being. Then we are living harmoniously on all levels, and at our core. Then we can express outwardly in a constructive way.
When next you meditate, visualize a garden – a lush, green beautiful garden, and this is in essence your mental garden. Sit quietly on a comfy chair and imagine that you can hear a stream, and see beautiful flowers, and breathe deeply the wonderful, crisp air there.
Communicate with God while you are in your garden. Ask him to reveal any hidden potentials while you are in this relaxed state. Ask Spirit to reveal to you anything that you should plant in your mental garden, to help you get to a new state of higher perception in any area of your being. Ask that you may be shown what the next step is in your wonderful journey on this planet.

About The Author: Moon Goddess

Moon Goddess is a third generation empathic healer and seer. She started to give healing readings to people more than 20 years ago. She has always been interested and studied all things metaphysical from a young age. Being hypersensitive she can feel and see things before they happen. Utilizing the Tarot, and with the help of her Guides, she is a source of support for many people all over the world. After he passed over, her grandfather kept his promise and came back to say goodbye and gave her the most amazing experience. Moon knows there truly is a Heaven, and it is wonderful! Sharing her experience has helped many people after they have lost someone, or anyone experiencing some form of grief. Get a reading with Moon Goddess now at PsychicAccess.com.