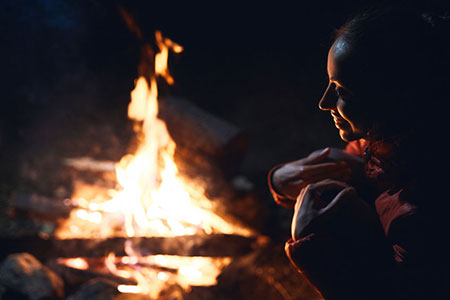 I had just finished making the bonfire for the evening. The sun was setting and I had had a good day walking in the woods on what looked like a well-worn path. I was contemplating the day and reflecting on some things that came to me.
I was not remembering what my ancestor had said about an angel coming to visit me. I had just let it go, and felt if it was meant to be it would happen in the right timing. I was not going to obsess over it. I just wished to enjoy each precious moment and was looking forward to deep meditation after the sun when down.
When I went into meditation, I did as I normally do, connecting with the earth and doing my visualizations. In my mind's eye my feet began to grow roots to the middle of the earth, and I was filling up with earth energy and light. I meditated for what seemed like an hour. Upon coming out of the deep meditation, I was feeling warmth, from the fire… but also from something else.
I looked straight ahead and on all sides of me was pure white light. It was the whitest light I have ever seen. It was so white that I think there had to be a different name for it. It evoked a serene feeling that was beyond anything I had ever experienced. The best way to describe this light was that it was that of a very powerful angel.
The angel was very tall, with huge wings. They were enveloping me while they stretched out what seemed to be very wide. It felt so healing and comforting.