From Skeptic To Believer In One Night
Published
August 25, 2014
|
By
Shani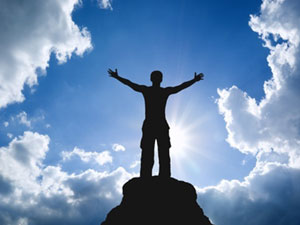 I must have been about ten years old when I often listened to the heated arguments my parents had. One late Saturday night, during one of my 'ear to the door' sessions, things seemed less intense. I heard what sounded like a more lighthearted disagreement. I recall my mother daring my father to go out with her one Sunday night. It was several years later until I actually found out what the 'dare' was all about, but it was life changing for my father. I am sure it was also quite a relief for my mother, who had someone with whom to share her passion for the Other Side.
Every man should believe in something. If not… he would doubt everything, even himself ~ Toba Beta
My mother was raised Catholic, which my father always mocked, but he was about to shift considerably and share my mother's belief in what she called "the spooks", even if he never agreed with organized religion. During that lighter debate, my mother had somehow persuaded my father to accompany her to a spiritualist church in London the following night.
Joseph Benjamin, a well-known medium was one of the guest speakers that Sunday evening. My father recalled later that as he was getting all wrapped up warmly in his winter clothing, he was secretly hoping he'd be able to escape quickly from the church and stop off at his favorite pub close by the church.
My parents just managed to squeeze into a small, standing-only area in the spiritualist church. They were behind a rear pew, and the people kept arriving until the church door eventually closed. My mother was pleaded with my father to stop his disrespectful chuckling, in order to allow more serious visitors to enjoy the service which was about to begin. He admitted later how my mother had elbowed him constantly to shut him up. He giggled all the way through the prayer service, but then Joseph Benjamin took the platform:
"Hooy," said Joseph Benjamin in his East London accent, "I'm talking to you in the grey overcoat and black scarf, right at the back". My mother said that my dad was looking all around to see who Joseph could be singling out. Finally, and with the help of many fingers pointing at him, my father realized, he was in the hot seat.
As for believing things, I can believe anything, provided that it is quite incredible ~ Oscar Wilde
Joseph continued unfazed by my father's surprise: "I have a William Williams here, and boy is he furious with you. He says there are some rafters in your garage where you've shoved his treasured tools to gather rust." I heard from my mother that my father was in utter shock. Only my dad knew the fate of my grandfather's treasured tools, so completely neglected since they were passed on to my father. It was one of his best kept personal secrets.
This first step in my dad's world of believing, which he called "knowing," led him to inviting his mother and other relatives over the following Sunday. As they were all gathered in the kitchen that Sunday evening, my dad told them about his experience in church.
My grandfather was right there with them, because the lights went on and off continuously that evening. This is one of the most common ways our loved ones are able to let us know they are right here with us. The power of a group of loved ones gathered together is like a conduit for electricity, and one of the most common ways for our deceased loved ones to let us aware of the wonderful world of spirit.

About The Author: Shani

Shani is a qualified practitioner in Reiki, aromatherapy, reflexology, body spin, and animal telepathy who received psychic development training at the Arthur Findlay College of Psychic Research in England. A published writer, her articles and predictions have appeared in several respected magazines and on psychic websites, and she has read for many celebrities and even heads of state in Africa. Though she was born in London, Shani has traveled the globe and has studied the art of African Mysticism, bringing her unique flavor to those seeking her incredible talents. Get a reading with Shani at PsychicAccess.com.


Posted in

Afterlife, Mediumship, Paranormal Phenomena, Psychic Phenomena, Spirituality
|
Tagged

awakening, awareness, beliefs, church, consciousness, crossing over, faith, family, famous psychic, ghost whisperer, ghosts, life design, medium, mediumship, mediumship reading, psychic medium, religion, séance, skeptics, spiritism, spiritual awareness, spiritual messages, spiritualism, spirituality, the other side, transformation
One Response to From Skeptic To Believer In One Night
This site uses Akismet to reduce spam. Learn how your comment data is processed.