Archive for the 'Healing' Category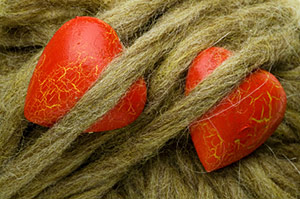 With any kind of relationship, romantic or platonic, good or bad, comes a metaphysical cord of attachment which feeds energy from one person to another, in what can be likened to surgical tubing.
When we've had relationships with people, these cords extend from our chakras or energy centers to those of the other person. So, you can imagine the amount of emotions we can take on from someone else – more often than not 'fear-based' emotions. That fear can show itself as fear of abandonment, unforgiveness, co-dependency, or any other negative emotion.
Years ago, I remember reading a newspaper article shortly after the son of Dean Martin had been killed in an air crash. The famous singer said it felt like his heart was being ripped out – so real are these cords that bind us. The ripping at his heart chakra was, in fact, real, even though there was not any physical evidence of his heart being pulled from his body. Read the rest of this entry »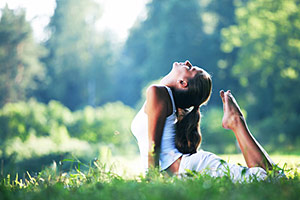 During my psychic readings one question pops up often: how do you keep stress and anxiety to where it is not affecting your personal or professional life.
One of my favorite techniques for stress reduction is Yoga. This form of 'exercise' originated in India and has greatly increased in popularity all over the world in recent years. It's great exercise for your body, and your mind. Keeping a healthy body improves holistic health and reduces stress and anxiety in your life.
Yoga can be done just about anywhere, even in small spaces. All you need is comfortable clothing and a mat to stretch out on. Add a relaxing environment and music, and you're set! Start slowly, working up to what is comfortable for you. This is key. Yoga can be very enjoyable and something to look forward to if it is performed with care and dedication. Read the rest of this entry »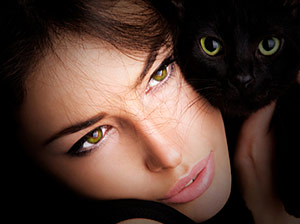 Two weeks ago, while going about my Sunday morning routine, I spotted an unfamiliar cat roaming around my garage. I watched it for a while to see if it was our neighbor's cat, but it wasn't.  It looked like it was a kitten so I went outside to give it some food.
I took the food outside and it hid from me, but as soon as I came back in I spotted it devouring the dish I had set out. It was then that I realized that not only was it a kitten, but it was a badly injured kitten. The side of its neck was red and infected with the skin and fur still attached. It looked to be in very bad shape. Read the rest of this entry »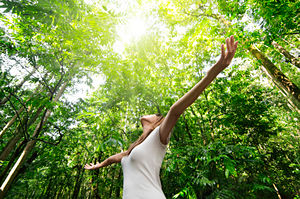 Early in life I looked for comfort in nature. As a rejected only child (my parents wanted six sons), I was often wandering on my own in nature's garden. Long-term friendships did not exist, because my dad was in the military. We moved as much as seven times in nine months. Nature was my trusted playmate and my elder teacher.
My strong religious upbringing gave me cause to read a great deal, but dual faiths in one household sent me mixed messages, so I questioned everything related to the patriarchal faiths of my parents. Read the rest of this entry »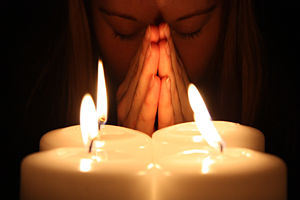 A ritual is a ceremony consisting of performing symbolic actions for a specific purpose. Rituals have always been part of organized religion, such as cleansing with water, lighting candles, bowing, sipping wine, wearing head coverings, and so forth.
Sumo Wrestlers bow at the beginning and at the end of their matches to show respect. In some Christian religions, the Eucharist and wine are taken to represent the body and blood of Christ. Candles are used in many faiths, especially in remembering those who have passed. Many experience comfort, as the flame is alive, glowing and warm. Read the rest of this entry »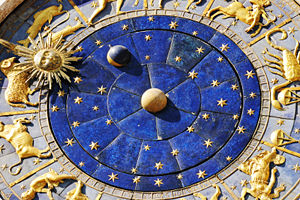 Few people believe that the planetary movements have an effect on their fortune, health and life events. Oh, how wrong they are.
Most people acknowledge the fact that the Moon and Sun direct the oceans, but they ignore links between the planets and human behavior and well-being.
Here is a list of just ten fascinating ways in which the planets affect us:
1. Surgery at the time of a Full Moon carries a much greater risk of severe bleeding
2. More babies are conceived under a waxing Moon
3. Sun spots interfere with communication equipment
4. Tree sap rises under a waxing or full Moon Read the rest of this entry »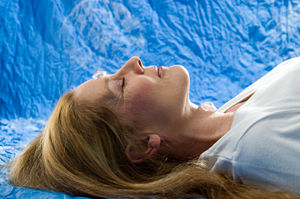 I enjoy doing etheric healing on people if they need it during an angel reading. Some people have asked me what it means to cleanse the inner bodies with etheric healing, so I wrote up on it a bit over the past few days of cleansing I have been doing on myself.
How do I cleanse the inner bodies? Well, I do a lot of processes. First, I connect to the inner sound current, which is the meditation I learned as a child, and then I do light meditation with the mantra I learned from my teacher in India. I usually do this for a few  hours or so every morning, but when you are in those altered states, time doesn't exist and it feels like 5 minutes. Read the rest of this entry »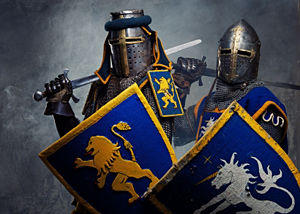 There is that pain again. Oh, yes, I am still sick to death of having it. However, since reading Many Lives, Many Masters by Dr. Brian Weiss, I handle that pain much better. That pain is part of what I call "my story." I can make up anything I want, or I can accept that I have not made it up; I have remembered it from a past life.
For me, that pain is the spot where I was run through with a sword from the right side of my body, at my waist, in my back and out the front of my body. I was a soldier, a male soldier in a blue, or grey, and yellow uniform. I have no idea where, because I was not famous or even outstanding with a sword, but I was dedicated. It is the ethical part I am certain of. I was fighting for something I totally believed in, and was, therefore, not afraid to die. I was with my friends, doing my job, and it was clear that this destiny was fine by me. Read the rest of this entry »