Friends For A Reason, A Season, Or A Lifetime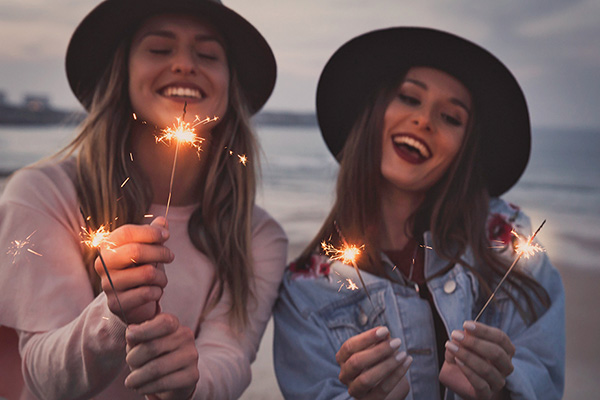 I recently reconnected with a family friend with whom I had a very close relationship about three decades ago. She was like a mother figure in some ways, even though she was only about 12 years older than me at the time.
She is a very caring and nurturing person and was always there for me when my own mother was physically or emotionally unable. Her door was always open and she always had many people around her. After working in retail for many years, she changed careers to become a full-time caregiver, which she loved. After she retired and her husband passed away, she continued to be very active and had a very vibrant social life.
But during the Covid-19 pandemic, like many people her age, she experienced intense isolation and trauma. We spoke frequently on the phone during this time, and she was very much looking forward to the restrictions finally being lifted.
However, when the worst was over and most restrictions were lifted, her group of friends remained afraid to go out. Some of them even developed agoraphobia, a type of anxiety disorder that causes people to experience extreme, irrational fear of public places and unpredictable situations that they imagine could cause them harm, panic, or helplessness.
My dear friend was deeply affected by this. Seeing all her friends again was one of the things that kept her strong and hopeful through the chaos of the pandemic. But now she felt she had lost her tribe (beyond her family, who all have busy, demanding lives of their own and live several hours away). Fortunately, she is a determined soul who will not easily accept defeat and apparently she is gradually getting more of the old gang together for their usual fun meet-ups!
These days I find more and more people calling me at PsychicAccess.com for readings about their social lives and friendships. They ask me questions like, "What's wrong with me because I seem to have a really hard time making friends. These callers range from the very young to the very old.
Long friendships are like jewels, polished over time to become beautiful and enduring ~ Celia Brayfield
Many singles of various ages also call, complaining that they feel most of their friends have abandoned them. With the growing socio-economic pressures of our modern society, people are increasingly juggling multiple responsibilities of work, home, family, etc. and do not always have the time or energy to keep in touch with their friends. Some of their friends have moved on with their lives, usually by getting married, having children, or moving far away.
I can relate to this on a personal level because I also find it harder to make new friends these days. So I totally understand.
And then, of course, there is technology. As much as technology has been and will continue to be a wonderful new way to stay in touch with old friends and meet new people, it also has its shortcomings.
My clients tell me that they feel more and more isolated these days because their friends prefer to text or voice message rather than meet in person. One recently told me she missed the authentic "belly laughs that cannot be replaced by emoticons." Not to mention the dangers of misinterpreted texts and confidential messages sent to the wrong person!
However, having read for thousands of people around the world, I have come to understand over the years that other people do not come into our lives by chance or accident. Rather, they synchronistically cross our paths to help us grow personally and spiritually. They come into our lives so that we can experience certain lessons, challenges, and opportunities our soul has chosen to experience in this lifetime.
The famous opening lines of the poem by Brian A. 'Drew' Chalker comes to mind:
People always come into your life for a reason, a season, and a lifetime.
When you find out what it is, you know exactly what to do.
There is much spiritual wisdom in the idea that other people come into our lives either for a reason, a season, or a lifetime. All of our relationships, regardless of their nature or duration, serve some kind of special purpose.
Growing apart doesn't change the fact that for a long time we grew side by side. Our roots will always be tangled. I'm glad for that ~ Ally Condie
Unfortunately, some people tend to take it very personally when others either do not reach out in friendship or reject their attempts to become friends. The person who feels rejected and hurt then begins to believe that there may be something wrong with them, rather than seeing this as an opportunity to learn to be with themselves rather than by themselves. Periods of solitude are often an important key to self-discovery, healing, and personal growth.
When it comes to friendship and community, while we should not be passive, lazy, or afraid to reach out and connect with others, we should not force social connections when others do not meet us halfway. Again, this happens for a reason and for a season. But never for a lifetime. Old friends and new connections will always be there for us as long as we are open to them.
Be kind to yourself and patient with others. You are a beautiful child of the divine and equally deserving of love, friendship and belonging as much anyone else. Trust that God, Source, Spirit, the Divine, will always connect us with the right people at the right time and for the right reasons. A true friend or a caring stranger will always show up when we really need support, advice, protection, or comfort. And those friends who are with us for a lifetime will even take the shirt off their back for us, unlike the fair-weather friends most of us have known at some point in our lives.
In short, some people do only come into our lives for a reason or for a season. When you gradually part ways with them, or they simply disappear abruptly, it can feel hurtful and devastating, but even so, know that they were instrumental in bringing you a valuable life lesson, a change of direction, or a new inspiration that you both agreed upon on a soul level. And somehow you have done the same for them.

About The Author: Shani

Shani is a qualified practitioner in Reiki, aromatherapy, reflexology, body spin, and animal telepathy who received psychic development training at the Arthur Findlay College of Psychic Research in England. A published writer, her articles and predictions have appeared in several respected magazines and on psychic websites, and she has read for many celebrities and even heads of state in Africa. Because of her empathy, people find it easy to connect with her. Every month, she attends a psychic circle and the information that comes through from Spirit never ceases to amaze everyone present. Though she was born in London, Shani has traveled the globe and has studied the art of African Mysticism, bringing her unique flavor to those seeking her incredible talents. What she has taken away from her many travels abroad, is that there is always a sort of longing clients have to be connected to the source of their being. Get a reading with Shani at PsychicAccess.com.