Dealing With Dysfunctional Family Dynamics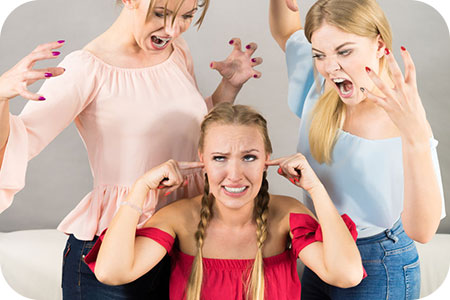 Family dynamics can be tremendously complex. These relationships are multi-layered and may have played out for ages. Next to love relationship, and then business, family relationships are at the top of the list for many of my clients.
For many family is a love-hate scenario, which can be particularly challenging. It is said we cannot choose our family, but we can choose how and when, or if, we interact with them. However, severing family ties is a big step and not one taken lightly. By the time this happens the drama, or abuse has been ongoing for years – many times beginning in childhood. A childhood that in spite the passage of time is as fresh and painful as it was when it occurred. If money and or control are woven into the mix, the matter doubles in complexity.
It's an unfortunate truth that many of the people that I speak with, especially empaths, intuitives and highly sensitive people, have family histories that are rife with conflict, and often also abuse. They often share a feeling of not belonging, being singled out, or being the scapegoat of the family. The suffering is long-term and tragic, with the scars running deep.
For many severing ties is not an option. There is both good and bad, and the need or desire to stay connected may dominate.  Whatever your situation keep the following in mind.
Own Your Power
You are an adult now, not a child, and while you may have been powerless then… you are not anymore. You can now make choices and decisions that serve your own peace and happiness.
Family is supposed to be our safe heaven. Very often, it's the place where we find the deepest heartache ~ Iyanla Vanzant
Set Boundaries
You can love someone from a distance. Just because they are family does not mean that you need to give them carte blanche access to you, and your time and emotions. Set boundaries with your time, keep phone calls polite, but brief, and most of all don't take the bait and discuss and rehash old family history. Listen, live and let live, and move on.
Reconsider Family Gatherings
Think carefully about the holidays and birthday gatherings. Many families sandbag arguments and emotions all year long, only to bring them out around the holidays to a captive audience.
Many feel guilty about not appearing at family gatherings, so they go and grit their teeth, and try to muddle through the drama that almost always comes when people are face-to-face. After all, you are then a captive audience, and unless you want to start a big fight at Christmas or on grandma's birthday, you keep your mouth shut and suffer in silence.
If you know it is coming, and it is no surprise to you and not traumatic for you, then great – muddle through and wave goodbye until next year. However, if the thought brings on a migraine or panic attack, or you fall into depression or begin to have nightmares about the encounter afterwards, then do think twice before you subject yourself to such.
In the process of letting go you will lose many things from the past, but you will find yourself ~ Deepak Chopra
Break The Pattern
We teach people how to treat us. This is true in our personal and professional lives. Respect is a two way street. Whenever you change a dynamic in a relationship it can create a stress response. If you've always been behaving one way, and then suddenly draw boundaries and refuse to engage, then you can expect some resistance, if not outright conflict. Chances are they would be angry or frustrated, regardless of what you say or do.
The pattern has been going on for years, and isn't likely to change unless you make that change. It is better to make a conscious choice demonstrated with respect, but firm resolve, than to keep engaging in a pattern that will eventually lead to some type of melt down or family Armageddon.
If you need help in navigating these waters reach out and get some. Don't stay stuck in an ongoing battle where no one wins.  Peace and quiet can be great gifts to yourself.

About The Author: Angelic Heights

Empathic, intuitive, psychic from a very young age, Angelic Heights (Gail) learned well the importance of using her gifts for the highest good. Marriage and a career in the paralegal field occupied her until her early 30's. Accurate, compassionate and direct, her focus now is entirely on enlightening, uplifting, inspiring and guiding those who seek her counsel. Get a reading right now with her at PsychicAccess.com