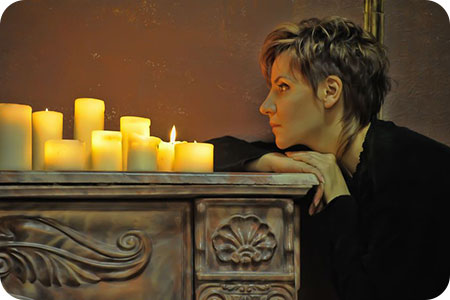 Ritual is one of the oldest forms of spiritual expression, and it has roots in pretty much all religions and spiritual practices. The energy created when we take the time to focus our intent, while using symbols and tokens that have meaning for us personally, can be transformational! Whether you practice ritual in a group or on your own, it can supercharge your manifestations and aid in any healing processes you may be going through.
When most people think of 'ritual' they often think of darkened smoky rooms, with people in long robes, chanting in strange languages perhaps, all seemingly choreographed with everyone knowing their roles. I'm sure there are some who practice in this way, and truly many of those elements have their place in ritual – incense, chanting, and so on. But I would suggest that ritual can also be something less rigid which we can craft to fit into our modern lives.
In my own practice, I began by creating a little 'altar' for myself. It is a small space where I arranged a few candles, some incense, crystals, feathers and some other tokens that have meaning to me. I added a picture of my mother, and a statue of an angel given to me when my grandpa passed away. I created a small space that had deep meaning for me and brought me into a mindset of love.
Now, I didn't have a lot of room for this! So when I say a small space, this could be anything from the corner of a dresser, to a whole tabletop. As my practice has evolved I now find that any spare surface becomes a home for little treasures that I find in my adventures. Once you start creating these rituals in your life, the Universe will often send you little gifts to help you along. Continue reading →