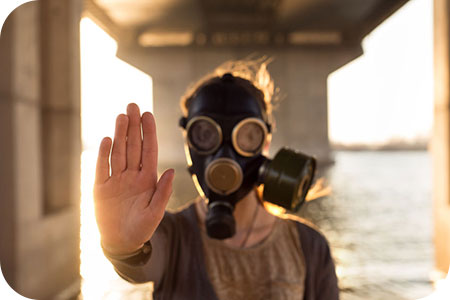 It is vital to protect ourselves energetically from toxic, negative people. It is essential to our health and well-being. To one degree or another we've all have experienced negative, toxic people. These people are sometimes easy to detect, but not always.
The most typical scenario I have encountered is the unkind or rude family member, or distant relative. These are also the most difficult to dealt with, because we often time have no choice but to spend time with them at family events and gatherings. Usually we feel we have no choice in the matter, bit this is actually not true. We do have a choice.
We don't have to attend every family event. If you know the toxic person is going to be there, you simply don't have to rise to the occasion. Stop feeling guilty for not attending. Of course, there are usually other family members who make you feel like you have to be there. "It just won't be Christmas without you," they might say.  But what it really comes down to is your personal well-being. Sure, you may only have to absorb their negative energy once or twice a year, but just like once you have heard something disturbing you can't 'unhear' it, once you have had the experience it is now a part of your memories.
I prefer to be proactive when it comes to managing my energy. And we do have the right to decide who we choose to spend time with, or not. I prefer spending time with those relatives and friends who are compassionate and kind, instead of those who lack tact, are rude, cruel and inconsiderate. I prefer to avoid those who think their opinions are fact, and who are constantly dropping poison upon others with their negative comments. Not okay. Not ever.