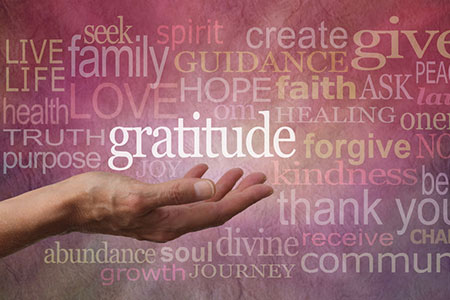 Sometimes when you are fearful or worried, the last thing you would envision thinking about is gratitude. When you are deep in grief, after the passing of a loved one, being grateful is also not your first thought. When you have lost a job, or have a sick child, the remote idea of gratitude can be the furthest thing from your mind.
However, it is during these times of worry, grief, or fear, that gratitude can be very helpful. If you can focus on even a small success, or a tiny attribute for which you can be grateful, it can make a world of difference to your perspective. Although changing your perspective will not necessarily alter your present circumstance, it can help you cope with your current reality.
Gratitude comes in all shapes and sizes. It can manifest in many forms at any time of the day. It does not have to be something magnificent or worldly, although it certainly can be something momentous, if that is what comes to mind.
Take a few minutes each day to be mindful and appreciative. Your focus can be as simple as having a safe home, or even a nice smile. Or it can be as complex as gradually improving health, or increased financial stability. It might be thoughts of a solid friendship, a dependable baby-sitter, or a full refrigerator. It can involve only yourself, or members of your family. It can encompass your entire neighborhood, your faith, or your workplace.