Working With Your Angels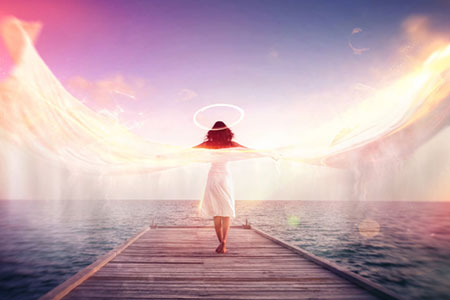 Working with the Angelic Realm will bring many blessings into your life. I know this to be true from first-hand experience. In the few short years I have consciously been working with the Angels, my life has completely changed and taken on new purpose and meaning.
I used to suffer from depression, anxiety, and a lack of direction, but these days my life is rich, fulfilling and abundant with magic and miracles.
The Angels have had a considerable influence on my life for the better. This is why I am now passionate about teaching others how to work with these loving beings. I want others to feel the joy and fulfillment I now feel every day.
Before we begin to work with the Angels, it is important to note a few tenets. The first is that, when I refer to 'working with the Angels,' I mean this in a non-denominational way. It is not attached to any religious dogma.
The second is that everyone has at least two Angels always working with them. There are no exceptions to this rule. Furthermore, nothing you can do in your life will ever make your Angels stop loving and supporting you unconditionally. In fact, it is their unconditional love and guidance that makes working with them so healing and transformative.
Finally, everyone can learn to hear, see, feel, and know their Angels' loving messages to them.
So, how do we do that? The first step is to ask. Ask your Angels to help remove any fears or other energy blockages that may be preventing you from clearly receiving their guidance and wisdom. I find it is best to do this before going to bed at night. When we are asleep, so is our conscious ego or thinking mind. This makes it easier for us to process our emotional and energetic baggage.
The more that you trust and believe in angels, the more they will pour their blessings upon you ~ Denise Linn
You can also call upon your Angels throughout the day, whenever you are feeling stressed, run-down, overwhelmed, confused, or upset. They will come in with their loving energy and help you to instantly shift your mindset and your mood.
The second step to working with your Angels is to trust. Trust that they are here to work with you, and on your behalf. Trust that you deserve their assistance, and trust in the goodness and abundance of this world.
One of the wonderful things about working with the Angels is that you can even have them work with you on increasing your ability to trust them! Ask them for signs and synchronicities to help build your trust, and to show you that they are truly with you. You will know it is a sign from your Angels by the way it makes you feel in the moment. You will feel their 'warm fuzzies,' which is a joyful, exuberant, loving feeling.
Every night and every morning thank your own guardian angel for peace and for the regeneration of all the cells in your body, and for joy ~ Dorie D'Angelo
The final step in working with your Angels is opening to receive. This is the most important, and possibly the most challenging step of the three. When we open to receive, we may feel vulnerable or undeserving, but it is important to work through these issues and emotions, otherwise we will have all the blessings and bounty brought to us by our Angels, waiting just outside our awareness and experience.
Again, you can ask the Angels to help you flex your receiving 'muscles.' Start small. For example, say yes when someone offers to do something for you, or to buy you coffee. In no time you will be receiving the abundance of the Universe courtesy of your Angels.

About The Author: Megan

Megan was born with wide open gifts, experiencing dreams and premonitions at a very early age. She has had 30 years of daily tutelage from Guides, Archangels, Ascended Masters, and the Ashtar Command. Since 1993, Megan has been providing honest and compassionate readings and healings, starting with friends and family, then transitioning to a professional practice, in 2006. She's certified in various psychic and healing methods, including Reiki, Angel Work, and specializing in relationship readings, giving detailed info on how long a relationship will last, whether the partner is honest, and what their intentions are going forward. Megan has accurately read for clients around the world. She is very proud and grateful for her client loyalty and has a long list of devoted clients who have worked with her for years, many since the inception of her practice. To get a life-changing psychic reading with Megan reach out to her today at PsychicAccess.com


This site uses Akismet to reduce spam. Learn how your comment data is processed.