The Mystical Cycle Of The Moon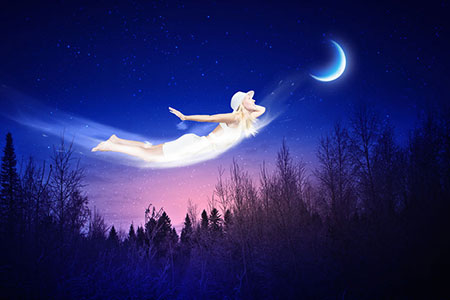 Traditionally many cultures worldwide centered their spiritual practices around the Moon and the phases it cycles through once approximately every 29 days. These phases reflect the Moon's journey around the Earth, revealing a little more or a little less of this mysterious satellite.
Much like the cyclic seasons of the year, the Moon's phases represent different aspects of personal contemplation for the spiritual practitioners and metaphysicians. The Moon represents our intuitions, hidden aspects of self, and the nurturing empathy a mother would show a child.
The New Moon begins and ends each lunar cycle. As a 'blank canvas' it suggests new beginnings, or the completion of a full circle. This is the starting point for working with the Moon's phases. Time your lunar calendar each month around the New Moon. Note, it will not be visible, but instead a dark circle. Use a white candle or another source of light to represent the fully illuminated Moon that is to come and start new ideas or projects.
As the Moon grows in size it goes into its 'waxing' phase. It will first become a crescent shape a quarter of the way in its orbit around the Earth, and later a wedge shape called gibbous. As it grows, so too will you and your ideas. Each day, ask yourself what is going right. Ask the Universe for guidance and inspiration, and remember that it's all right to change plans or make revisions.
As the Moon is in its growing phase, each day a little more of its surface is cast in light. The Moon also rises an hour later each day in the cycle. Its many craters are a reminder that despite perceived flaws, something can be wonderful when illuminated.
We are all awed by the sight of the Full Moon glowing in the sky. This is the time in the cycle when we can enjoy the fruits of our efforts, and also examine what worked or did not work in practice. This is also the time in the lunar cycle when emotions run at their highest, so be careful of acting too impulsively. Be sure to also show gratitude and humility for what you've accomplished so far.
The moon is a loyal companion. It never leaves. It's always there, watching, steadfast, knowing us in our light and dark moments, changing forever just as we do. Every day it's a different version of itself. Sometimes weak and wan, sometimes strong and full of light. The moon understands what it means to be human ~ Tahereh Mafi
As the Moon slowly begins to shrink again, it begins its 'waning' phase. This is the equivalent of the autumn and winter seasons. It is a time for self-reflection, release and the forgiveness of debts, resentments and bitterness. It is the time to let go of the things that did not go as expected during the waxing phase. Surrender yourself both emotionally and spiritually.
As you look up at a waning moon, be reminded of its constancy and know that it will soon return to its full illumination. Before you know it, you will look at your calendar and see that another month has passed, and the Moon is in a new cycle once again. It's a great reminder that nothing, however dark or difficult, has to last forever. And with regular spiritual practice, you can renew yourself, your state of mind, and your well-being continuously.

About The Author: Mystic Shelley

Mystic Shelley is a five-star psychic, Reiki healer, clairvoyant and empathic reader. She offers her clients honest answers about past, present and future events with the help of her trusted guides. She reads in the area of love, relationships, career, money and all matters of life. Mystic Shelley was born with talents that would later mark her as a gifted psychic, but she chose not to embrace them early on. In her 30's, a not-so-chance meeting with a celebrated psychic set her on a course that awakened her gifts. Born with the gifts of clairvoyance and empathy, her psychic mentor helped her to expand those abilities, taking her talents to the next level. With experience came proficiency and today she has a growing list of devoted clients who sing her praises. In addition, she's also actively assisted other psychics to open up to their abilities. If you are looking for direct and honest answers get a reading with Mystic Shelley now at PsychicAccess.com