New Hope And Appreciation For The Future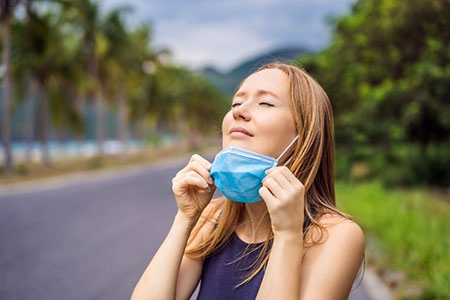 We have all been suffering some form of hardship during the Covid-19 pandemic, including restrictions on our lifestyle, financial losses, unemployment, bankruptcy, physical and mental illness, as well as the tragic death of loved ones. Yet, despite all the adversity and chaos, our planet has continued to turn on her axis.
In the Northern Hemisphere, we are finally starting to enjoy milder weather as the days once again get longer. The sunshine and gradual warmth feels so remarkably good after such a isolating, traumatic winter. It is a time of renewal and rebirth. Life continues to spring eternal and there is a feeling of new hope and anticipation in the air.
Although we are not completely out of the woods yet, we can be thankful that our scientific experts and medical heroes are in the process of gradually resolving the many challenges we still face. There is finally a glimmer of light at the end of the tunnel.
The extended isolation of the past year has afforded many people the time to reflect on what is truly important in life and to make the necessary adjustments to live a more balanced life of joy and fulfillment.
For many of us the importance of family and friendship has emerged front and center. For others, the privilege of gainful employment or a healthy mind and body has become their focus.
Regardless, the impact over the past year has been so great that most of us are less likely to take anything in life for granted the way we might have in the past.
These days, even the most mundane tasks and events have taken on a much greater significance. The flexibility of simply going out for no particular reason, or attending school in person, or going to a shopping mall, feels exciting and different. Just having the option of eating in a restaurant or getting a decent haircut is now a luxury that is greatly appreciated.
Strength does not come from winning. Your struggles develop your strengths. When you go through hardships and decide not to surrender, that is strength ~ Mahatma Gandhi
Meanwhile, it is incumbent upon each of us to visualize the positive changes we would like to see in our world. Look around. Send love, light and healing to all who need it. Give wherever possible, whether it is in monetary form, time or encouragement and support.
Above all, it is important to put things into perspective, to appreciate what we have and to continue to strive for what we wish to attain in the future. Having goals and ambitions will propel us forward, so that we can catch up and even surpass where we thought we should have been by now.
Amass this new energy to make a difference, even if it seems very small and insignificant to you. A big smile will light you up inside and can brighten the day of everyone you meet.
Taking even baby steps toward your ultimate success will give you the encouragement to keep going. Start somewhere. Do something. Keep going. It's always too soon to quit!
People only get better with experience if they are willing to learn and understand the lessons that are given to them through the bad times in their lives ~ Jamie Alderton
As 2021 starts to pick up speed and we begin to attain our new normal, keep this feeling of appreciation and gratitude in mind. Do not lose sight of the lessons we have learned this past year and the strength we gained from it.
Let us learn from the past, focus on the present and continue to aim for the future. We may never go through this kind of tumult again in our lifetime, so we must use the hard-earned experience to set a new course with great aspirations and confidence.

About The Author: Monica

"What you think about, you bring about; what you believe, you become." This is Monica's philosophy, derived from her twenty-five years of experience as a Clairvoyant, Light Worker and Medium, living in Ontario, Canada. Monica has been a guest speaker at various Spiritualist churches, conveying Spirit greetings and messages from loved ones during Sunday services, All Mediums Nights, Healing Services, Meditation Services and special fundraising events. She's been an advisor to several international business leaders and connects with all of her clients on a level of love light and empathy. She delivers messages containing ideal outcomes and positive solutions with the help of her guides. If you'd like Monica to help shape your destiny, you can find her at PsychicAccess.com.


One Response to New Hope And Appreciation For The Future