Your Sacred Creative Energy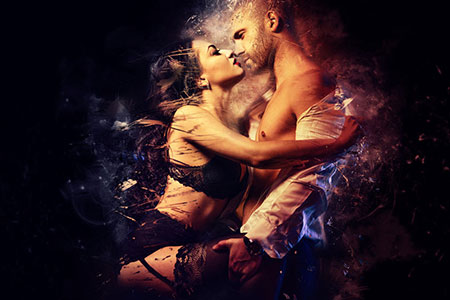 One of the most powerful and sacred energies we have is our located in our Sacral Chakra, the seat of our sexual and creative energy. This chakra is located just underneath the navel and associated with the color orange.
Orange is the most creative color. I always recommend to my clients who are struggling to design, paint, sculpt, write, choreograph, compose, manifest, or get pregnant, to introduce as much orange in their life as possible. This means wearing orange, decorating your art studio with orange, and even eating oranges and carrots and other orange-colored foods!
Nothing is more powerful or important in life than to create another life. To create a new opportunity for soul growth. To give access to another being to be able to use the planet for spiritual growth. For this reason, our sexual energy and creative energy are intertwined.
When a client tells me they are having a hard time writing their book or completing an art project, I always look into what is happening in there romantic and sex life. Usually there is a problem in this aspect of their life. For example, an unhealthy sexual relationship involving abuse or perversion will stifle someone's creative energy.
It is vital to know that every person you are sexually intimate with will leave a residue of their energy with you and take some of yours. Sex creates an energy cord between your and the other person. If this is not a healthy sexual exchange, then it may become both energetically and karmically toxic.
The abuse of our own sexuality, as well as the sexual abuse of others, can damage our creative energy. Abuse it, and you will lose it. Sexual trauma is stored in the body and can cause reproductive, psychological and creative damage. Sexual trauma as an adult, or in our childhood, needs a lot of work and time, and sometimes expert guidance, in order to heal.
Sexual energy is the primal and creative energy of the universe. All things that are alive come from sexual energy. In animals and other life forms, sexual energy expresses itself as biological creativity. In humans, sexual energy can be creative at all levels – physical, emotional and spiritual ~ Deepak Chopra
I had a client once who had stopped creating art, despite having two fine arts degrees from a prestigious college. She did not understand why she had lost her creative drive and inspiration, until we established that unresolved trauma of childhood sexual abuse resurfaced every time she drew or painted. After intense healing and counseling work she finally got back on track.
I also had a male client who struggled with a lack of libido and a phone sex addiction, which he was no longer able to get any gratification from either. I explained to him that he had burned out his sexual energy. Again, abuse it and lose it. He needed to cultivate a healthier, more spiritual sexual energy exchange with his partner. There is a reason why Kundalini masters and Tantra practitioners abstain from sex for extended periods of time. It is a powerful way to harness your creative energy and spiritual power.
Anything that is not for the greater good and the spiritual betterment of the planet will cause a negative karmic effect. Protect and preserve your sacred creative energy and you will be able to conquer the world.

About The Author: Satya

Satya lives in Northern California and is a natural Clairvoyant, Empath, Conduit, teacher, author, animal lover, healer, Reiki Master and an advanced yoga instructor. She has provided valuable psychic assistance to Hollywood stars, athletes, and everyone else in-between. A multi-layered Intuitive, with many unique gifts at her disposal, she can give you a doorway into the past as well as a gateway to a happier future. With her long distance energy work, she provides healing for people and animals too! She instantly spots karmic connections from past lives that directly affect current situations, helping clients to move through them quickly. For accurate solutions on just about any pressing problem, you can find Satya at PsychicAccess.com.