The Personal Power Of Your Life Path Number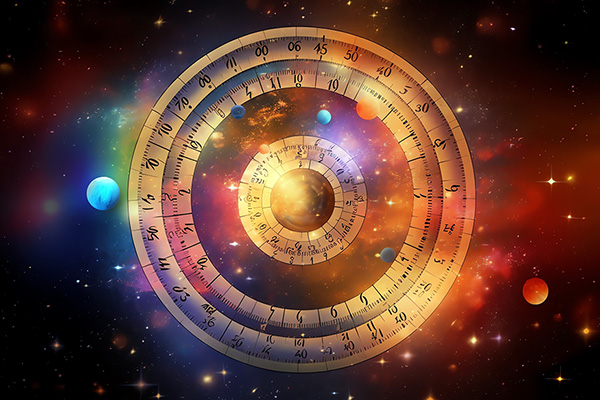 Numerology is based on the idea that there is a mystical relationship between numbers and destiny. It originated from the ancient practice of assigning numerical values to words and names, and attributing spiritual symbolism to such numbers.
In Ancient Greece, the mystic Pythagoras further developed this concept proposing that numbers are divinely inspired creations that carry sacred codes. This led to a system of divination that is still used today, and Pythagoras is therefore considered the father of modern numerology.
There are different systems of numerology that share some common principles, such as Chaldean, Pythagorean, Kabbalistic and Chinese numerology.
Numerology, however, is not fortune-telling in the traditional sense, as it does not simply attempt to prophecy or predict the future. Instead, numerology aims to reveal information about our personality, talents and gifts, our life path and purpose, as well as our potential and destiny.
In numerology, each of us has a set of unique, individual numbers known as our core numbers. These numbers are calculated from our date of birth, letters of our name, and other personal information. By analyzing the core numbers associated with us, we can gain insight into our personality, talents, challenges, opportunities, and spiritual lessons.
The most commonly used core numbers in numerology readings include the life path number, expression number, soul number, heart's desire number, personality number, and destiny number. The life path number is, however, considered the most important number in our numerology chart. It is calculated by adding up the digits of your birth date and therefore remains the same throughout your current lifetime.
Listen within yourself and look into the infinitude of Space and Time. There can be heard the songs of the Constellations, the voices of the Numbers, and the harmonies of the Spheres ~ Hermes Trismegistus
The value of this core number reveals our purpose and mission in this lifetime, as well as our personality traits, strengths and challenges. It is calculated by adding up the digits of your birth date until you get a single digit. For example, a person born on January 1, 2000 would add:
1 + 1 + 2 + 0 + 0 + 0 = 4
The person's life path number is therefore 4.
Each lifetime number has its own symbolism and characteristics. Here is a brief overview of what each life path number means:
Life Path 1: Drive & Independence
You are a leader, an innovator and a pioneer. You have a strong will and desire to achieve your goals. You are independent, bold and innovative. You may be challenged by being too self-centered, impatient, or domineering. Relationship compatibility: 3, 5 and 9.
Life Path 2: Cooperative & Diplomatic
You are a peacemaker, diplomat and harmonizer. You have a gentle soul and keen intuition. You are cooperative, supportive and loyal. You may be challenged by being too sensitive, indecisive, or codependent. Relationship compatibility: 4, 6 and 8.
Life Path 3: Creative & Expressive
You are creative, communicative and entertaining. You have a vivid imagination and a gift for expression. You are optimistic, cheerful and gregarious. You may be challenged by being too scattered, superficial, or irresponsible. Relationship compatibility: 1, 5 and 9.
Life Path 4: Dependable & Practical
You are a builder, planner and organizer. You have a practical mind and a strong work ethic. You are dependable, disciplined and honest. You may be challenged by being too rigid, stubborn, or narrow-minded. Relationship compatibility: 2, 6 and 8.
Life Path 5: Curious & Adventurous
You are an adventurer, an explorer and a seeker of freedom. You have a restless spirit and a thirst for change. You are adaptable, curious and versatile. You may face challenges if you are too restless, impulsive, or reckless. Relationship Compatibility: 3, 7 and 9.
Life Path 6: Nurturing & Compassionate
You are a healer, nurturer and teacher. You have a compassionate heart and a sense of responsibility. You are nurturing, generous and helpful. You may be challenged by being too self-sacrificing, overbearing, or perfectionistic. Relationship Compatibility: 2, 4 and 8.
Life Path 7: Introspective & Wise
You are a seeker, thinker and mystic. You have a deep mind and a thirst for knowledge. You are analytical, introspective and spiritual. You may be challenged by being too isolated, skeptical, or secretive. Relationship compatibility: 5, 9 and 11.
Life Path 8: Ambitious & Powerful
You are a leader, a manager and an achiever. You have a powerful presence and a vision for success. You are ambitious, confident and effective. You may be challenged by being too materialistic, authoritarian, or workaholic. Relationship compatibility: 2, 4 and 6.
Life Path 9: Compassionate & Humanitarian
You are a humanitarian, a visionary, and an idealist. You have a universal perspective and a desire to make a difference. You are compassionate, tolerant and wise. You may be challenged by being too detached, impractical, or selfless. Relationship Compatibility: 1, 3 and 5.
The numbers in your date of birth represent your own sacred starting point – the precise numeric sequence into which you were born. This describes the special nature of your individual journey. It is the main path you will travel in this lifetime, and is the most powerful of all your personal numbers ~ Christine DeLorey
How To Use Your Life Path Number
Our life path number is the most important of the core numbers because it provides us with the following valuable insights and benefits:
Life Purpose & Mission. Our life path number represents the overarching theme or purpose of our lives. It reveals the primary lessons and growth opportunities we are meant to experience in our current lifetime.
Personality Traits. Our life path number provides insight into our core personality traits and characteristics. It highlights our strengths, weaknesses, and innate talents that are likely to influence various aspects of our life journey.
Self-knowledge. By studying our life path number, we can gain a deeper understanding of ourselves and our motivations in life. This self-knowledge can lead to personal growth and better alignment with our true nature and calling.
Life Challenges. Each life path number comes with its own set of challenges and lessons to be learned. Identifying these challenges can help us navigate them more effectively and develop strategies to overcome potential setbacks, hurdles, and obstacles.
Career & Relationships. Our life path number provides insight into appropriate career paths and areas of interest that align with our natural inclinations. It also sheds light on relationship compatibility and dynamics.
Life Stages & Transitions: Our life path number can be analyzed alongside our personal year numbers to gain insight into specific cycles and phases in our lives. Different years can bring different energies and opportunities based on these numbers.
Spiritual Growth: Each life path is a unique spiritual growth journey. Knowing our Life Path number gives us a deeper understanding of the spiritual aspects of our lives and a greater sense of purpose in terms of our soul's evolution.
Personal Development: Armed with the knowledge of our life path number, we can proactively work on personal growth and development by leveraging our strengths and talents while better managing our shortcomings and personal challenges.
Validation & Confirmation: Discovering that our life path number resonates with our personal experiences and aspirations provides a sense of validation and confirmation that we are on the right path.
It is important to note that your life path number is a tool for self-discovery, personal growth and alignment with your true potential. It is not a fixed fate that you must accept, but rather a dynamic destiny that you can shape with your free will. You can make the most of the energies of your life path number by living in harmony with it and following its guidance and direction.

About The Author: Paul

Paul is literally living his dream, counseling others from a bustling neighborhood in Buenos Aires, in the very place he dreamt of living as a boy. Born with a Clairvoyance that he desired to explore further, he developed his gifts as an initiate of a prominent esoteric school, studying under the tutelage of a Master who helped him to tap into the Divine Presence through Tarot and the Runes. Paul studied the Qabalah and Ceremonial Magic and founded a research group with some friends, which focused on applying spiritual principles to everyday life. For over twenty years, he has shared his talents and knowledge with others, becoming a sought after teacher as well as a highly valued Intuitive counselor. If you would like the deeper meanings of your situation revealed to you and are willing to journey with him down a path that will give you clear answers and fulfillment in your life, you can find Paul at PsychicAccess.com.