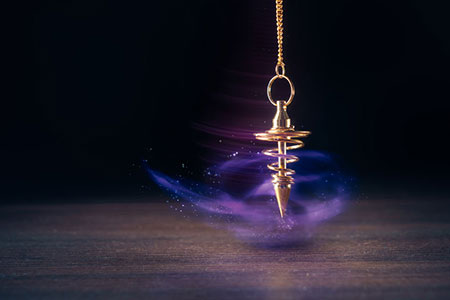 If you live in a rural, arid area or grew up in a farming community, you might be familiar with the practice of 'dowsing' to searching for hidden, underground water. But did you know that dowsing is also used as a divination tool, as well as a spiritual practice?
The art form of dowsing dates back to ancient times, as it can be found depicted in old artwork found in Egypt, China and Babylonia. Dowsing for water, as it is practiced today, is believed to have originated the 16th century in Germany, where it was first used to search for metals.
Dowsing, however, is not only used to find water. It is also used by diviners and metaphysicians to predict future outcomes, perform healings, locate missing objects, and even to help solve crimes.
Instead of a dowsing rod, psychics use a pendulum or weighted item to ask their spiritual guardians or angels for guidance. The pendulum serves as a connection between the physical realm and the spirit realms. The answers from spirit is interpreted through the motion of the pendulum. For example, if the pendulum moves up and down, or counterclockwise, the answer may be no, or negative, while back and forth or clockwise usually suggests yes, or positive.
A skilled diviner is usually able to translate the results very accurately, although a beginner can also practice this art with some success. This allows someone who is new to the practice to ask simple yes or no questions to get results. For more advanced readings, with more complex questions, it's best to consult a dowser with more experience, who can accurately interpret the results. Dowsing scales and charts are often used for this purpose.
Posted in

Angels, Chakra Readings, Divination, Energy, Healing, Metaphysics, Psychic Readings, Self-Help, Spirit Guides
|
Tagged

angel messages, angel readings, Angels, become psychic, chakra healing, Chakra Readings, channelling, Divination, divination tools, diviner, dowsing, Egypt, energy, energy field, energy healing, guardian angel, guidance, Healing, Metaphysics, oracles, pendulum, psychic development, Psychic Readings, psychometry, reading, self-help, spirit communication, Spirit Guides, spiritual guidance, spiritual messages, spiritual practice, traditions
|
Leave a comment