flexibility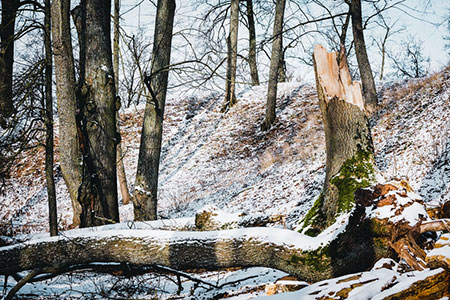 As winter arrives, it is always a time of reflection for me. Winter storms are so bittersweet. They are beautiful, but they also can be very destructive. In a winter storm last year, I have observed some of the strongest, oldest trees losing their branches. Those large branches were the first to snap. They looked so strong and have weathered so many storms, yet they could not withstand the wind.
As I analyzed the results of that winter storm, the realization came to me that the smaller, more supple branches had the ability to bend with the strong winds. The large, majestic branches, however, had become rigid over the years and broke easily in the powerful, icy wind.
The same principle could apply in our lives. How well we handle a challenging situation will depend on our ability to remain flexible and adapt. A very strong, experienced person may appear on the surface to be able to move mountains and handle most situations with ease. But if that same person is unwilling to listen, refuses to compromise with others and cannot remain open-minded, they will most likely be doing a lot of 'snapping' when facing adversity.
If we can 'bend' to at least agree to disagree with others, and keep a more flexible, adaptive attitude in difficult times, it makes life a lot easier to maintain harmony with the world. If tunnel vision is how we choose to see life, it is impossible to see that others may also be right sometimes, or have a better solution. When we become rigid, stiff, closed and inflexible, it becomes harder to see the bigger picture and to have a more peaceful approach to life.
When we are rigid and think our way is the only way, it is also hard to make and keep lasting relationships. In a group situation there are always people that see the opposite side any situation for a problem. Sometime these people may play devil's advocate. They listen to each point of view to arrive at a compromise.