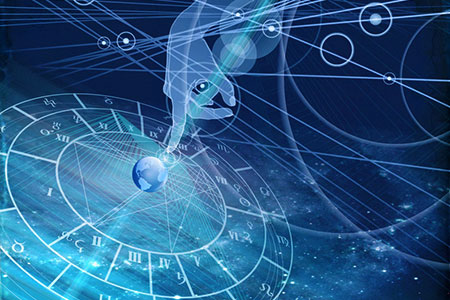 We could feel a bit skittish or anxious this week as four astrological events unfold.
Today's Virgo Moon has us running on all cylinders, and we could find it difficult to keep up with all that's on our plates! But beware the Moon's opposition to Neptune in Pisces later today, because it has a tendency to deflate our drive and motivation, and can also cause some of us to be anxious and overly sensitive.
Luckily the Moon will move into Libra tomorrow to restore some balance, cheer us up and stimulate our desire for harmony.  The Libra Moon may also have us feeling romantic today. It is a great time to meet that someone new to sweep you off your feet!
The Libra New Moon on Wednesday gives us the opportunity for a fresh start or a 'do-over' if something we're working on has hit a block. But be patient, as moodiness, restlessness and irritability may be a possibility today for those of us with a fragile temperament.
Pluto will also turn direct on Wednesday, after five months of backward motion. Pluto generates karmic shifts and is more generational than personal, so we may not even notice its influence for a month or more, but it promises to reverse and right some global problems we've been dealing with.
Venus will move into the light-hearted and fun-loving sign of Sagittarius on Thursday, bringing six weeks of joyful movement as we move closer to the holiday season next month. Speaking of Sagittarius, the Moon will travel through this fair-minded sign over the weekend, lightening the mood considerably. Saturn will turn direct on Sunday, calling for a restructuring of boundaries and schedules as we move into a cycle of busyness and high activity for the remainder of the year.