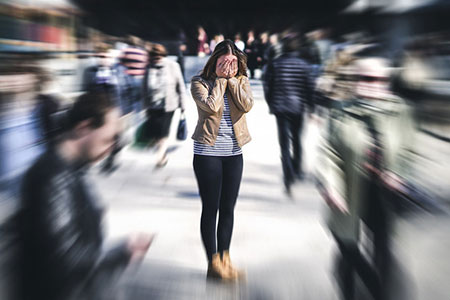 Anxiety is high for many people in the world right now. This is especially true if you are a clairsentient. Clairsentients have the ability to detect and feel energies from those around them, as well as their environment.
If you are a clairsentient, you might be feeling lately as if the world is falling apart. The good news is, there is hope – both for the future of our world, as well as the anxieties you have been experiencing.
Clairsentients experience incoming energies on all fronts. Only you have the power to determine which energies will affect you, and how much. Learning to control how much of your own energies you project into the world is also crucial.
Many clairsentients, who have practiced for years, report that they are able to be as visible or invisible as they choose to be. Imagine whatever works best as a powerful visual metaphor for you to create psychic protection around you: a force field, suit of armor, or a shield of light, are all good shielding visualizations.
When was the last time you took a vacation? If you're like most people, it's probably been a while. The concept of a 'staycation' is perfect for the stressed-out clairsentient. Really focusing on your own needs is okay and you don't need to feel guilty. You can also use this time to discover more about your own aura and chakras, and make them stronger and healthier. If you're the outdoorsy type, a camping trip or day hike might be just what you need to breathe, reconnect with the earth, and shrug off the negative energies that have built up.