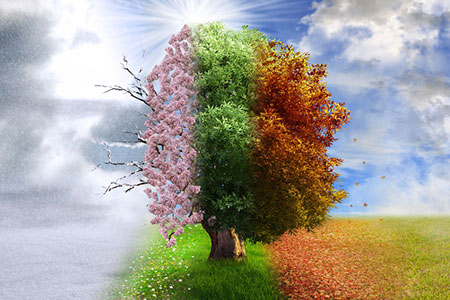 We are part of a world that is continually changing. It's happening in the very air we breathe. But why is change so difficult? For most people, creating major changes in their lives makes for a difficult and unsettling period. The reason being that attachment to familiar activities, along with the people, places, friends and family which have constituted one's world thus far, increases the probability of not wanting to let go. But change is inevitable, and without it the pain endured by trying to remain unmoved is almost unbearable… growing in intensity with each day endured.
Nothing remains the same. Try as we might, we cannot continue to live in an unaltered world. Chaos is part of dissolving our imagined pristine worlds. Chaos fosters the creative change so vitally needed in our day-to-day living. In all actuality, people don't change; seasons do. And, when the season of change is upon us, we are powerless in the face of it. To surrender totally remains the only option, if we are too prevent an extended, abysmal stay in an unwanted reality.
In order to stay alive, we must destroy the food we eat by consuming it, through the destructive process of assimilation. If we left it in an untouched form, by not digesting it and not having it changed into the chemical composition we need, we would literally starve to death. So too must we participate in the process of destroying some of the existing elements in our lives in order to continue living more fully. We can only procrastinate, hide, deny and resist for so long, until 'creation of the new' demands our response, with or without our approval.