The True Meaning Of Surrender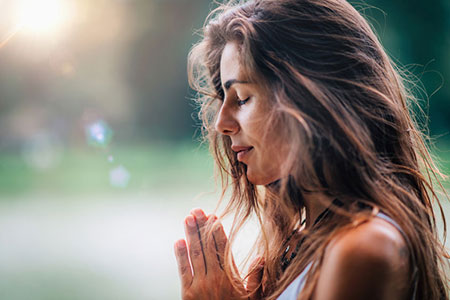 When life becomes too challenging, and things begin to fall apart for us, we usually seek spiritual guidance and comfort. And in these circumstances we often tend to hear terms like surrender, release and acceptance. We are told to just let it go and simply be in the moment.
But what does it really mean to surrender? It's a term often used in spiritual and metaphysical circles. Is there even such a thing? And if so, what does it entail? According to the dictionary, surrender means to stop fighting and admit defeat. It also conjures up the vision of waving a white flag. But is spiritual surrender truly nothing more than throwing in the towel, and graciously accepting our defeat?
I prefer to explore the meaning of spiritual 'surrender' through the metaphor of a painting I made, which is my way of meditating and reflecting on life. The painting is of an angel and I even named it Surrender. I chose this name, because it is the energy this angel emanates. His pose and posture also symbolizes the act of surrender.
At the time of working with the energy of this piece, I was in the process of leaving the security of a mainstream finance career, to establish myself as a full-time artist, energy healer and spiritual reader. Meanwhile, I was also very busy navigating a family separation and divorce. There were so many major changes in my life, and so much about my future and my life path that remained uncertain and unknown.
During my painting time, I felt connected to an energy that provide me with wise counsel. It was during a time in my life when I wasn't feeling grounded in my own wisdom, and I needed a way to feel into it. This painting for me became the bridge in my understanding, as I navigated my new life changes.
Change is the essence of life; be willing to surrender what you are for what you could become ~ Reinhold Niebuhr
It helps to find a personal metaphor, definition or explanation for the concept of 'surrendering,' as it makes the process less abstract. It offers us an opportunity to be open to a new perspective or view on the situation. I came to define 'surrender' to be an extension of 'stillness,' or what is known as 'mindfulness,' while focusing on the process of letting go.
I also found faith and trust in a force greater than ourselves, to be an important element of spiritual surrender, along with the courage to keeping moving forward, even when the path ahead is not clear or certain – which is often the case during times of major transition and change.
Surrendering to big life changes means that some days will be harder than others. There will be an ebb and flow that you move through, and each day may bring with it a different feeling. I learnt not to fight what I felt, but to keep taking small steps, as I felt guided in the moment.
It doesn't mean you'll always find it easy to go with the flow or accept the sudden changes in your life, but it offers a framework for what the process means. We are often called to the process when we are letting go of the old, to embrace a new path, a new relationship, or a health challenge that pauses us to make changes.
A deeper sense of faith, and confidence in your own inner strength, are some the gifts to be found through the process. On reflection, I liken the process to being unexpectedly caught in an ocean rip current. I have only ever experienced this twice, and both times were terrifying!
Sometimes surrender means giving up trying to understand and becoming comfortable with not knowing ~ Eckhart Tolle
The advice for swimming out of a rip current is relevant as a metaphor. If you are experiencing a challenging time in your life, I highly recommend adding some spiritual practices or personal rituals to your day. It will help you to stay calm and become more grounded and centered. Spending time in nature and reconnect with the simple pleasures of life. Resting and conserving energy are also vital.
If you are really struggling, know it is okay to reach out for help. You may find comfort in prayer, or even by immersing yourself in a creative outlet. Whatever it is, stay confident in knowing that you are not giving up, but rather surrendering to finding yourself again, among the debris of what has fallen apart. Share with others, and lean on those who love you, and wish to support you during the process.

About The Author: Cheanne

Cheanne's Divine gifts came to her in her early 20's, when this young Australian accountant felt suddenly compelled to take a creative art class. On the blank canvas, she saw a face that moved her greatly, and she painted it. The brush took on a life of its own, as she painted the divine presence of Buddha. We are not alone, she suddenly knew, and that feeling has stayed with her ever since! Messages and healing have come through her art work and from her Intuitive sessions that connect clients with spiritual guidance to navigate through life's changes and challenges. She also helps clients tap into and experience their own unique gifts. Since 2013, Cheanne's helped business owners achieve their creative visions, she's provided clients with portraits of their Angels and Guides, and she's channeled messages at New Age Festivals, Expos, from her local practice room, home studio, via phone and internet, and through the dozens of group workshops and intimate retreats she's provided. Her unconditional, loving support has touched thousands, and acts as a bridge to connect clients with a powerful, Divine Guidance. You can find this unique and wonderfully talented Intuitive at PsychicAccess.com.