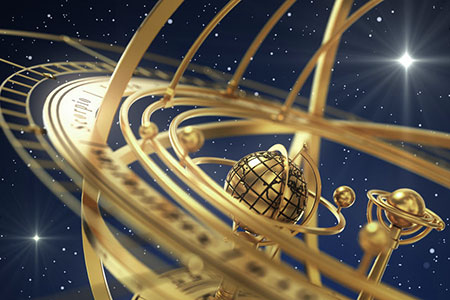 Today's Scorpio Full Moon, also known as the 'Pink Moon,' may throw us a bit off-center for a day or two, as its intensity can tend to bring hidden fears to the surface or make us doubt our current course. On the upside we may feel very sensual, adventurous and even courageous to try new things, but we may also be prone to passionate drama, overreaction or conflict. Combined with Pluto turning retrograde in Capricorn on Tuesday, the first part of this week therefore is a time for practicing caution and refraining from making any hasty decisions or taking impulsive actions one way or the other!
Things ease up considerably under Wednesday and Thursday's Sagittarius Moon, when a more lighthearted energy emanates from the heavens. Staying focused in the moment will help bring things to right size again and eradicate a feeling of being overwhelmed.
It's back to work the remainder of the week, as the Moon travels through responsible Capricorn from Friday through Sunday. Time to tackle the workload and chores that keep our worlds running smoothly as we transition from April into May. All in all, even though things may start out on a somewhat challenging note, we'll be able to reclaim our balance and equilibrium later in the week and become very productive.
The Capricorn Moon Trine Venus in Taurus on Saturday will have us in a very loving, happy mood with the desire to care for friends and family and have everyone get along in peace and harmony without conflict or arguments. This amicable energy makes the weekend a good time to build family connection, rekindle friendships and cultivate a sense of belonging.