Thanks Mom For Teaching Me Unconditional Love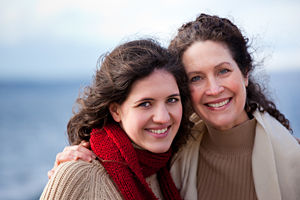 We all know people who have come in and out of our lives at just the perfect time to say just the right thing at just the right time. Some of these wonderful people may have stayed in our lives, or perhaps left just as quickly as they came.
I have had several experiences with Earth Angels, but looking back maybe they were not of this earth at all. When I think of Earth Angels, I think of one person in particular and that is my Mother. My mother has taught me many things that has helped me in my life. She has taught me the fruits of the Spirit by applying them in her life.
So, with this blog post I simply wish to thank my mother for being present in my life.
A father may turn his back on his child, brothers and sisters may become inveterate enemies, husbands may desert their wives, wives their husbands.  But a mother's love endures through all  ~ Washington Irving
Children who have parents that are great role models and really are active in their children's lives, grow into kind adults who mimic that in turn with their own children. I was very lucky to have a mother that didn't leave me to my own devices growing up. She was very active in my life and taught me many things: to be kind and courteous to elderly people and always hold the door for them; to be kind to everyone whom you encounter; and to always smile and be positive, because we do attract that which we project out. My mother always made sure that we ate our meals at the table until we left home. I have found that it's true families who eat dinner together.
My husband pointed out the other day that when my mom calls me on the phone, she always asks how everyone is, not just me. She asks about him, and the whole family. She is very supportive and interested in what everyone is doing. I know many people like her who would walk right up to you and hug you and ask you how you are doing.
My mother has a special charisma about her, a true essence of caring, compassionate energy. Whenever we talk, we don't even have to think about it, we always say "I love you" as we part ways, or before we hang up the phone.
No language can express the power, and beauty, and heroism, and majesty of a mother's love.  It shrinks not where man cowers, and grows stronger where man faints, and over wastes of worldly fortunes sends the radiance of its quenchless fidelity like a star ~ Edwin Hubbell Chapin
When I first met my husband, it was very difficult for him to express his feelings by way of verbalizing. Just saying "I love you" was just not the norm for him. It was awkward, as he described it. He just wasn't used to it. Well, he married an Italian and we don't hold back on the affection! Cut to today, we have been together now for almost 17 years and he is now able to say I love you, and he says it often.
This has extended to my clients as well. I have helped my clients see that they too deserve to be told they are loved and shared with them ways in which they too can get their spouses and partners to open up, and be more relaxed with expressing how they feel.
There are no guarantees in life and if you don't say "I love you" to those that mean the most to you, why you may never ever get another opportunity to do so. Like a cat purring is good for stress, expressing love is also good for the heart. So, enjoy these free things that are good for you.
I dedicate this blog to my Mother and all Mothers out there who do so much for their children, and know how important being present. It is the biggest gift they can give their children, so they can grow up to be compassionate adults. Thanks Moms!

About The Author: Moon Goddess

Moon Goddess is a third generation empathic healer and seer. She started to give healing readings to people more than 20 years ago. She has always been interested and studied all things metaphysical from a young age. Being hypersensitive she can feel and see things before they happen. Utilizing the Tarot, and with the help of her Guides, she is a source of support for many people all over the world. After he passed over, her grandfather kept his promise and came back to say goodbye and gave her the most amazing experience. Moon knows there truly is a Heaven, and it is wonderful! Sharing her experience has helped many people after they have lost someone, or anyone experiencing some form of grief. Get a reading with Moon Goddess now at PsychicAccess.com.