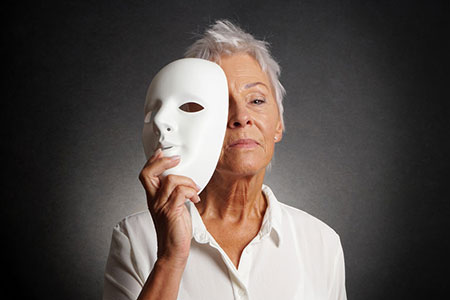 The majority of human beings believe they tell the truth most of the time. Few will admit they lie. And none will disclose just how often, when, and how they twist the truth 'a little' to suit their needs. They convince themselves they are not really lying, when they know very well that their distorted versions of the truth are deceptive.
We are curious creatures. Adept at swindling ourselves to favor a certain idolized self-image we have created. One that we must maintain consistently in as much as our sovereign power allows. Hah! How utterly ridiculous and futile are our attempts to portray an untruth so vividly transparent. We can't hide from our true self, for that's who we live and die with.
It's all a matter of unconscious perception. An awareness yawn would serve to do the trick of waking us up, but we're simply not interested, especially if it involves 'disturbing our self-indulgent illusions.' We want to continue to believe how wonderful, well-informed, funny, intelligent, attractive, spiritually evolved, dedicated, hard-working, honest, caring, decent, committed and interested we are.
We walk around as if we not only have an ace up our sleeve (an extra added edge), but can make it magically appear at will. We sincerely think no one can see through our considerately, deceptively masked, incognito 'what's in it for me' personality.
These deceptively constructed guises are particularly prevalent when we are entering into new relationships. That's when we really put on the 'dog and pony show.' We come across so deliberately 'put together' and manicurely maintained. It matters not, if that 'face of the hour' is nowhere near the panoramic view of incalculable distortion occurring on the inside. We are on a personal quest; we want something. And, nothing will deter us from our conquest.