The Golden Power Of Silence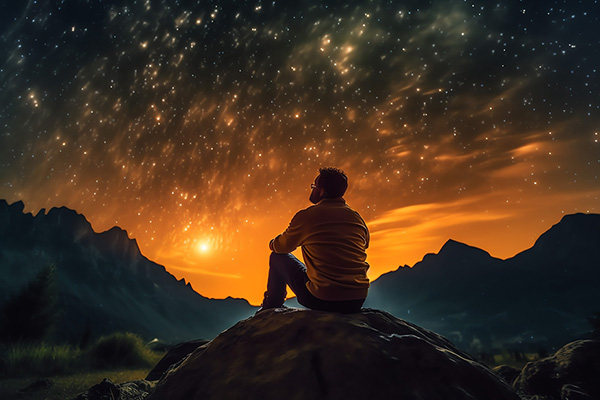 I took my early morning walk today along a path surrounded by an olive grove on one side and almond trees on the other. In the background the beautiful hills seemed mystical in the early morning mist.
The only sounds that broke the silence at this early hour were the chirping of birds and the bleating of baby goats playing on the small farm opposite my house. Occasionally they were interrupted by their father, who seemed to keep them safe by nudging them into a particular corner of the property.
In these moments of peaceful silence I like to have a dialogue with spirit to receive some guidance or direction for the day, as well as answers to questions I may have about my life and work. But today I felt guided to simply contemplate the meaning of silence.
There are many forms of silence, some less peaceful than others. For example, there are the 'elephant in the room' or 'cold shoulder' moments of silence when there is awkwardness between people. There is also the 'poker face' silence, when someone pretends to listen, but in reality has mentally withdrawn from the conversation. We also fall silent when we are perplexed or confused. Sometimes we keep silent to avoid possible misunderstandings.
A very powerful form of silence occurs when we are deeply engaged in an activity, alone or with others. Everything else seems to fade away as we concentrate on the task at hand.
And of course the best kind of silence is when we are in communion with spirit and the cosmos. In these moments we feel completely at peace and connected to others and the universe. This silence nourishes the soul and gives rise to divine inspiration and spiritual insight.
In the sweet territory of silence we touch the mystery. It's the place of reflection and contemplation, and it's the place where we can connect with the deep knowing, to the deep wisdom way ~ Angeles Arrien
Thinking about how silence between people can sometimes be uncomfortable, awkward or even angry brought back a memory from long ago when my father mentioned, to my disbelief, that when he was a young boy there was a time when his parents did not speak to each other for over two years. Apparently it all started because they disagreed about how best to prepare the coal fire! I found it really hard to imagine a married couple not speaking for such a long time over something so trivial.
However, my father's words were confirmed by his mother when I asked her about it later. Her explanation was that she was in mourning for my grandfather at the time. He had died of lung cancer just as he was about to retire. I didn't want to pry too much at the time, but I wondered if she ever regretted those two years of silence between them? I know it must have been awkward for my father and his sister to have to act as messengers between their warring parents. In today's terms, this was clearly a very toxic form of silence for two children to be exposed to.
After my walk I decided to google the saying "Silence is golden" and the definition I found is that silence requires authority of mind and a certain kind of inner strength. It is much more difficult to remain silent than, for example, to utter words of anger, resentment or judgement.
I also discovered that the original proverb is actually "Speech is silver, silence is golden." Its modern form most likely originated in Arabic culture, where it was used as early as the 9th century. It suggests that sometimes it's better to say nothing than to speak our minds, especially in situations where silence can often be more powerful than words. By choosing silence, we can avoid unnecessary conflict, misunderstanding or saying something we might regret later.
Then I came across a story online about a 68-year-old man who, after surviving a near-death experience, was encouraged by his doctor to retire from work in order to prioritise his health. However, early retirement did not have the desired effect and did not suit him at all. Not only was it bad for his relationships, but he felt he no longer had a purpose in life. In search of meaning, he signed up for a 30-day silent retreat in the countryside.
The silence is there within us. What we have to do is to enter into it, to become silent, to become the silence. Silence is the language of the spirit ~ John Mains
At first he found it very difficult to be in a constant state of silence, but in time he learned to meditate on how to live a happy life without regrets. By becoming silent he was able to truly connect with the source of his being for the first time. He had many realisations, including a sudden awareness that he had lived a very materialistic, money-driven life, always trying to live up to the expectations of his parents and peers.
He also reflected on how much time he had wasted throughout his life worrying about future outcomes that he could not predict or control. Most importantly, he learned that a mindset of gratitude helped him move forward in life by making him aware of his many blessings and how much good there was around him.
Ultimately, his silent discoveries led him to come out of retirement and he now coaches other retirees to find meaning and purpose in their lives. Embracing silence to listen to his inner guidance led him to a new life path and purpose, which he now uses to help transform the lives of others.
Silence as a spiritual practice is a doorway to inner wisdom, personal growth and self-empowerment. May you find some meaningful momenst of silence in your life today.

About The Author: Shani

Shani is a qualified practitioner in Reiki, aromatherapy, reflexology, body spin, and animal telepathy who received psychic development training at the Arthur Findlay College of Psychic Research in England. A published writer, her articles and predictions have appeared in several respected magazines and on psychic websites, and she has read for many celebrities and even heads of state in Africa. Because of her empathy, people find it easy to connect with her. Every month, she attends a psychic circle and the information that comes through from Spirit never ceases to amaze everyone present. Though she was born in London, Shani has traveled the globe and has studied the art of African Mysticism, bringing her unique flavor to those seeking her incredible talents. What she has taken away from her many travels abroad, is that there is always a sort of longing clients have to be connected to the source of their being. Get a reading with Shani at PsychicAccess.com.