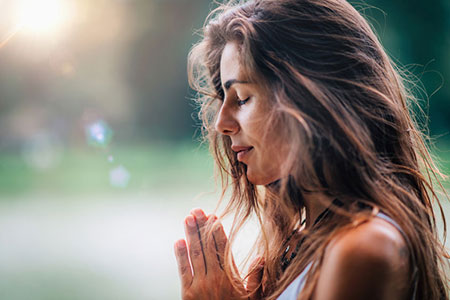 When life becomes too challenging, and things begin to fall apart for us, we usually seek spiritual guidance and comfort. And in these circumstances we often tend to hear terms like surrender, release and acceptance. We are told to just let it go and simply be in the moment.
But what does it really mean to surrender? It's a term often used in spiritual and metaphysical circles. Is there even such a thing? And if so, what does it entail? According to the dictionary, surrender means to stop fighting and admit defeat. It also conjures up the vision of waving a white flag. But is spiritual surrender truly nothing more than throwing in the towel, and graciously accepting our defeat?
I prefer to explore the meaning of spiritual 'surrender' through the metaphor of a painting I made, which is my way of meditating and reflecting on life. The painting is of an angel and I even named it Surrender. I chose this name, because it is the energy this angel emanates. His pose and posture also symbolizes the act of surrender.
At the time of working with the energy of this piece, I was in the process of leaving the security of a mainstream finance career, to establish myself as a full-time artist, energy healer and spiritual reader. Meanwhile, I was also very busy navigating a family separation and divorce. There were so many major changes in my life, and so much about my future and my life path that remained uncertain and unknown.
During my painting time, I felt connected to an energy that provide me with wise counsel. It was during a time in my life when I wasn't feeling grounded in my own wisdom, and I needed a way to feel into it. This painting for me became the bridge in my understanding, as I navigated my new life changes.