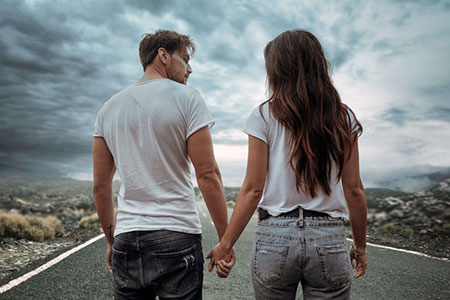 Relationships come in all shapes and sizes, just like people. No one relationship is ever the same, nor can it be compared to, or competed with. Every relationship is dynamic and has a plethora of unique characteristic.
Our multi-faceted, highly complex relationships define us. They mold, shift, alter, arrange, blend, extricate, cajole, and elicit both the best and worst in us. Much is entailed in the transpersonal acrobatics we set off, in order to be effective in getting what we want from others. Dare I mention, on top of all that, the clandestine involvements we keep secret?
If and when we concentrate our distorted perceptions on what we're getting from the relationship, instead of simply 'showing up for the gig,' we wouldn't miss a vitally important aspect of each relationship: the opportunity to see ourselves more truthfully and clearly. In fact, relationships are the crystal clear mirrors of who and what we truly are.
It's too easy to get 'hung up' on the blinding effect of erratic dancing in the blurred shadows of external forces operating in our various, multi-layered relationships. We can, however, learn much about ourselves, should we be vested enough to add sufficient interest, inclination, effort, actual involvement and committed attention in proportions necessary to solicit hidden motives from ourselves. Then we will reap the astounding benefits of self-disclosure.
By becoming more acutely aware of the whole, perplexing, spidery-webbed picture, we render a much better receptive state of mind. This sponge-like mindset solicits an initial discovery phase, in which much of our inner motivations can be clearly seen.