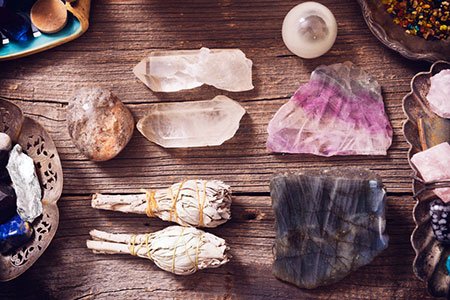 Crystals and gemstones are a powerful means of channeling energies and reinforcing manifestation intentions. The energy frequency of some crystals can attract love, romance, abundance and prosperity, while others promote good health, mental clarity, inner peace and letting go of limiting beliefs.
Learning how to use crystals and tune in with their energy vibrations can enrich your daily spiritual practice and give your manifesting efforts a substantial boost.
But is crucial to keep in mind that the energy effects of crystals and stones work in subtle and nuanced ways. They are not decisive metaphysical tools that will instantly transform your life from one day to the next. They are not miraculous; they are just accomplices on your journey.
How do they work? Each crystal or stone has its own magical essence or metaphysical power that arises from its particular energy frequency. This unique energy signature is determined by its molecular composition and crystalline structure.
A simple way to get started with crystal work is to classify the metaphysical properties of minerals and stones by their color. This will help you quickly identify the ideal stones for a particular purpose and effectively use them in your day-to-day life. But, of course, keep in mind that this is only a classification in general terms.
Yellow: energy, success, improvement, joy.
Blue: water, healing, communication, inspiration, calm.