Protect Your Energy From Toxic People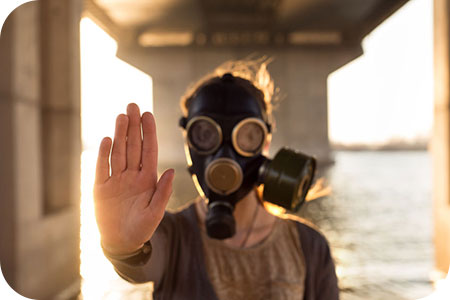 It is vital to protect ourselves energetically from toxic, negative people. It is essential to our health and well-being. To one degree or another we've all have experienced negative, toxic people. These people are sometimes easy to detect, but not always.
The most typical scenario I have encountered is the unkind or rude family member, or distant relative. These are also the most difficult to dealt with, because we often time have no choice but to spend time with them at family events and gatherings. Usually we feel we have no choice in the matter, bit this is actually not true. We do have a choice.
We don't have to attend every family event. If you know the toxic person is going to be there, you simply don't have to rise to the occasion. Stop feeling guilty for not attending. Of course, there are usually other family members who make you feel like you have to be there. "It just won't be Christmas without you," they might say.  But what it really comes down to is your personal well-being. Sure, you may only have to absorb their negative energy once or twice a year, but just like once you have heard something disturbing you can't 'unhear' it, once you have had the experience it is now a part of your memories.
I prefer to be proactive when it comes to managing my energy. And we do have the right to decide who we choose to spend time with, or not. I prefer spending time with those relatives and friends who are compassionate and kind, instead of those who lack tact, are rude, cruel and inconsiderate. I prefer to avoid those who think their opinions are fact, and who are constantly dropping poison upon others with their negative comments. Not okay. Not ever.
Some people take your energy and put you in a negative place. Sometimes you just have to walk away if this is a regular occurrence ~ Rachael Malloy
There is never an excuse to carve out time and space for toxic people. I know sometimes we might want to go, to just see if they have changed, hoping they may have changed spiritually, emotionally, mentally. But I have found that these folks rarely, if ever, change.
So, how can we detect toxic negative energy, and what are the best strategies we can put in our 'energy protection toolkit'?  The quickest way to detect and protect is to know them by their fruit. I am referring, of course, to the biblical concept of the Fruit of the Spirit. Do they speak love or hate? Are their words filled with prejudice? Are they rude? Do they lack respect? Do they exhibit love, joy, peace, patience, kindness, goodness, faithfulness, gentleness, and self-control?
Sometimes it is easy to read someone's energy, but sometimes you won't see it coming. Pay close attention. You may notice the light has left their eyes. Or you may observe that they lack compassion, kindness and respect.
Do not engage with the toxic ones. Do not talk to them. Don't make eye contact. And, if possible, do not share space with these people. There is no reason for it. Exercise your free will and cancel your plans, if you know they will be popping up somewhere you were planning to go. If you feel you have to share space with them, against your better judgment and for whatever reason, again, do not waste your time and energy communicating with them.
It's important to remember too that when someone is rude to you it has nothing to do with you, but it has everything to do with them. For no reason at all, some people find it okay to down other people, because they are different from themselves or hold different beliefs and values. It is very immature, but they don't realize how juvenile they really are in their outlook. Do not be threatened by rude people, because it just a sign of how insecure and unhappy they really are.
I've had to cut people that I love out of my life or distance myself from 'friends' not because I don't love them but because they were causing unnecessary stress in my life. It's worked so far, I'm happy me again ~ Nadine Barnes
When we have to share space with these types of people, we can use them as an example of how not to be. If there are younger people present, we can say, "See, that is incorrect behavior, that is not acceptable." You can turn something negative into an opportunity to teach.
Your lifestyle habits can also improve your energy shielding. For example, carry a tourmaline stone on your person, to absorb excess negative energy. Also, I like to carry rose quarts as it strengthens the heart chakra, after sharing space with such an individual. If possible, take an Epsom salt bath after spending time with negative folks, as often there are negative entities attached to these types of individuals. Negative spirits feed off the energy of the toxic person. Salt will cut any negative energetic cords that may have attached themselves to you.
We always think about our health by way of what we are eating and if we are getting enough exercise. We seldom think about energetic health. I find that keeping ourselves protected energetically is vital to our heath and well-being.

About The Author: Moon Goddess

Moon Goddess is a third generation empathic healer and seer. She started to give healing readings to people more than 20 years ago. She has always been interested and studied all things metaphysical from a young age. Being hypersensitive she can feel and see things before they happen. Utilizing the Tarot, and with the help of her Guides, she is a source of support for many people all over the world. After he passed over, her grandfather kept his promise and came back to say goodbye and gave her the most amazing experience. Moon knows there truly is a Heaven, and it is wonderful! Sharing her experience has helped many people after they have lost someone, or anyone experiencing some form of grief. Get a reading with Moon Goddess now at PsychicAccess.com.