The Deeper Meaning Of Color Stereotypes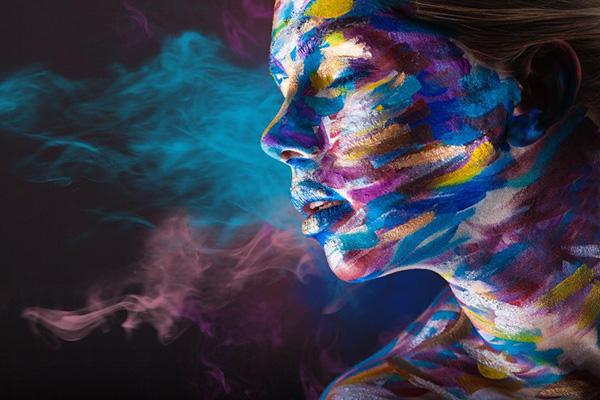 Have you ever heard the expression someone "talks a blue streak?" It refers to a person who talks rapidly and non-stop. But why use the adjective blue? I suspect it may originate from the metaphysical tradition of the color blue being associated with speaking one's truth (throat chakra) and creative expression. People who gravitate towards this color are often creatives or performers, such as designers, fine artists, singers, dancers, and so on.
Communicating succinctly is the most powerful way we can make a connection with others beyond our subliminal energy connections with everyone around us. An over-abundance of words, however, translates into a lack of trust on the speaker's part that she is not accepted by others, be it family members, coworkers, friends, or stranger she encounters along her life path. Speaking clearly and concisely is an art.
The color red also holds a fascination for me, as I perceive it to be a color that is so amazingly misunderstood. Red is generally interpreted as the color of anger, such as "I was so mad, I was seeing red." Red is also used to denote danger in road signs and red cars are said to be associated with speed and aggressive driving.
But the color red also has many positive symbolic meanings in different cultures, including about passion, excitement, love, vigor, health, life and even spiritual zeal.
Another brilliant color that is often misrepresented is black. Once again, it is generally seen as a color related to depression, sadness, gloom, negativity and evil. In my view black stands out as a harmonious hue. If we see it in a positive light, black can be considered as a sharply defined, elegant color. It is symbolic of power, mystery, and sophistication. No one can deny the glamour of showing up to a dinner party in a smart little black dress or a tailored black tuxedo.
There are colors we can't see, but they're connected to the ones we can. There's a connection between everything ~ Wayne Shorter
These disparities between color stereotypes and the deeper symbolism of each color teaches a valuable lesson about limiting beliefs, misguided opinions, and prejudices we tend to hold about many things in our world, both seen and unseen. The spiritually conscious person does not subscribe to preconceived notions and narrow-minded thinking.

About The Author: Kitty

Kitty is a Canadian Intuitive, born into a large family of clairvoyants and clairaudients. A local celebrity, she's been giving accurate predictions in her paper for over fifteen years now, and is often called upon to lead séances and provide readings at Psychic Fairs in Vancouver. A trained counselor, she combines her natural Gifts to detect blockages at their root, and provide detailed psychic information and practical advice for success and happiness. She's helped locate missing items and people, has communicated messages from loved ones who've passed on, and communicates with two Sacred Celestial Beings who are unerring in the startling information they provide. If you'd like to connect with this remarkable Intuitive, whose talent spans generations, you can find Kitty at PsychicAccess.com.