A Solstice Resolution For The Love Warriors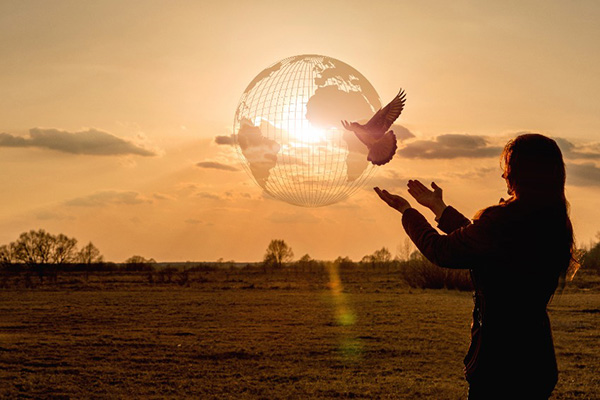 The December solstice is upon us toady. The Sun is currently directly above the Tropic of Capricorn in the Southern Hemisphere, marking the shortest day of the year in the Northern Hemisphere and the longest day of the year in the Southern Hemisphere. Traditionally, the solstice is the most spiritual time of the year in many cultures. The solstice season is a time to cultivate our soul purpose and life journey by reflecting on the year that has been, as well as the new year to come.
For me, 2022 has been a year of finding increased divine connection and inner strength and peace by expanding my psychic gifts. This year I have particularly focused on expanded my telepathic abilities to promote compassion, love and peace in turbulent, chaotic situations and an intolerant post-pandemic world.
I am proud to report that I have made significant progress. For example, many months ago, my daughter and I were on a public bus together, when the driver aggressively started yelling at a young passenger. He became so unhinged that he stopped the bus, ordered him to get out, and even started start throwing things after him. However, sending out 'happy vibes' was not yet my first line of defense back then. Instead, I resorted to calling 911. The city's transport authorities ultimately dealt with the driver.
Recently, I was confronted with a similar situation, when a bus driver cussed out a child for not wearing a coat. But this time, instead of reporting the driver, I focused on bringing calm and safety telepathically to the driver and the other passengers. It worked, as she soon focused on other matters at hand, such as the flow of traffic, instead of escalating in her anger towards the child.
If we do not work for individual transformation, talking about world peace is just entertainment ~ Jaggi Vasudev
The moment I started raising my vibration, I almost instantly noticed the atmosphere changing and the tone of both the driver and passengers becoming more peaceful, tolerant, and considerate. Despite  the driver's earlier outburst, passengers remained calm and chose to turn the other cheek. Many even thanked her upon disembarking from the bus. I also thanked and wished her a great day, when I got off at my destination, feeling spiritually accomplished and self-empowered.
People who survive and overcome much adversity and trauma in their lifetime, are entrusted by the Universe, God, Spirit, Source, the Divine with an inner power and wisdom greater than common understanding. We survivors are meant to become warriors of peace, compassion, and unconditional love. We must become empowered to effect change in the world through peaceful, invisible methods instead of having to directly confront troubling circumstances.
This is therefore what I pray for on this blessed solstice day: that more of us will focus on peace, love, and light to change lives and make the world a better place, instead of anger, outrage, prejudice, and violence. It always works infinitely better than trying to force an outcome. Jesus and Mahavira understood this eternal truth. So, did Mahatma Gandhi, Nelson Mandela, Mairead Maguire, Rosa Parks, and Martin Luther King Jr.
If we remain in prejudice against people who look, think and act unlike ourselves, we only breed more darkness and resist the light of unconditional love, mutual understanding, and wisdom. We are all created in the image of the Divine. And if we learn to let go and let God, miracles happen despite the most difficult circumstances.
We each possess what is needed to create peace on earth. We all know how to love, we just need to practice using that knowledge in all aspects of life ~ Lisa Prosen
How do we achieve such inner peace, strength, and courage? We arm ourselves in body, mind, and spirit. If we feel fear at first, it's there for a reason. We are feeling it because we haven't fully put on our divine armor yet.
Don't test the Universe's support and protection unnecessarily, but also don't be ruled by cynicism and fear. That is the spiritual tightrope we must walk to attain inner peace and personal fulfillment. Asking in prayer and meditation what this daily balance entails for us personally is key to living a blessed, enlightened life of higher consciousness.
Today's solstice marks a time of self-reflection, restoration, renewal, and rebirth. Don't be afraid of the future! Our world is in the palm of a Divine hand and you are meant to be one of a brave spiritual army of love warriors. On this magical solstice day, resolve to start your empowered spiritual journey towards greater joy, peace, and fulfillment in 2023 . The world needs your faith, life experiences, strengths, and talents. Most of all, it needs your powers of love.

About The Author: Esther

Esther knows the best way to survive trauma is to keep looking for the positives in life! She left a successful career as a pharmacist in 2017, to help others see their way through the darkness. She honed her psychic gifts and developed strong counseling skills that helped thousands. She hosts her own radio show on Wednesdays and has been a sought after guest on other programs. An expert in Astrology and Tarot, she maintains a list of 250 personal clients, she's served over 2000 clients from all walks of life, and has dispensed accurate information and insights to those in need. She uses a holistic approach that allowed her to deal with her own serious illness and avoid an organ transplant! In life, she's conquered pill addiction, divorce, a serious illness and has the life experience to help others overcome their own obstacles too. For over 10 years, she led an education group for psychiatric patients and has an acquired wealth of knowledge in general health and wellness. There's no better door to knock on than Esther's. This gifted intuitive has walked in your shoes and has come out the other side healthy, happy and fulfilled. You can find Esther at PsychicAccess.com.