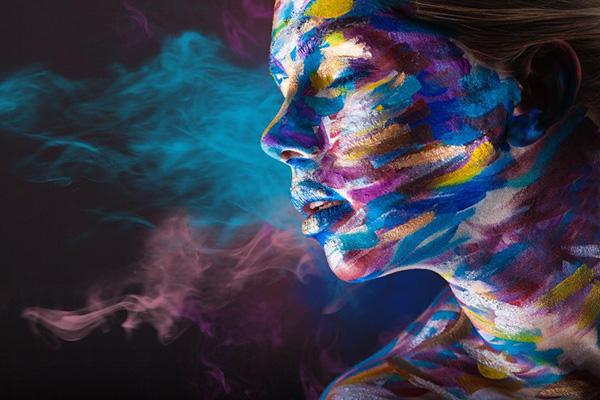 Have you ever heard the expression someone "talks a blue streak?" It refers to a person who talks rapidly and non-stop. But why use the adjective blue? I suspect it may originate from the metaphysical tradition of the color blue being associated with speaking one's truth (throat chakra) and creative expression. People who gravitate towards this color are often creatives or performers, such as designers, fine artists, singers, dancers, and so on.
Communicating succinctly is the most powerful way we can make a connection with others beyond our subliminal energy connections with everyone around us. An over-abundance of words, however, translates into a lack of trust on the speaker's part that she is not accepted by others, be it family members, coworkers, friends, or stranger she encounters along her life path. Speaking clearly and concisely is an art.
The color red also holds a fascination for me, as I perceive it to be a color that is so amazingly misunderstood. Red is generally interpreted as the color of anger, such as "I was so mad, I was seeing red." Red is also used to denote danger in road signs and red cars are said to be associated with speed and aggressive driving.
But the color red also has many positive symbolic meanings in different cultures, including about passion, excitement, love, vigor, health, life and even spiritual zeal.
Another brilliant color that is often misrepresented is black. Once again, it is generally seen as a color related to depression, sadness, gloom, negativity and evil. In my view black stands out as a harmonious hue. If we see it in a positive light, black can be considered as a sharply defined, elegant color. It is symbolic of power, mystery, and sophistication. No one can deny the glamour of showing up to a dinner party in a smart little black dress or a tailored black tuxedo.