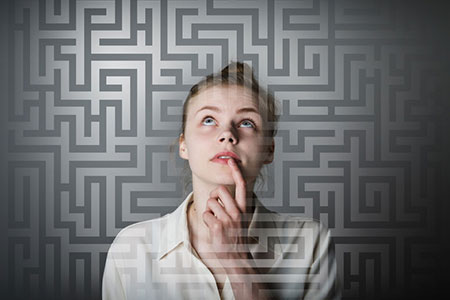 We often lose our way when we look to the outer world for direction. Relationships, people, places, things, careers, education and events cannot fully guide us on our delegated path of destiny. When we disassociate from the starkly remarkable and precise direction of the inner world, we veer off course. With an external focus we become confused and fearful about our footing and our particular place in the universe.
The outer world is an ever-evolving, unreliable mirage, without boundaries and purposeful meaning. It merely reflects conditions; it does not detect. In other words, the outer world is an outward expression of an inner nebulous experience of desire for permanency. Giving credence and value to it unnecessarily, as a separate functioning entity, brings elevated perplexity and condescending despair.
Things occur for reasons incomprehensible to us. Though we go to great lengths to add our unsolicited opinions, and smear our unjustified ignorant remarks so callously, the truth remains, while the rest falls away. Nothing we say or do can change one iota of what is to be.
We are not now, nor will we ever be, greater than the Tao that sustains us. It matters not what one relates, refers and registers this sacred energy as (god, universal spirit, nitrogen), the impersonal movement requires no acknowledgment to carry out supreme super structural force and intent. In other words, we will not be consulted on the sublime activities which occur in our lives without consent or confirmation.