Seeing Clearly By Way Of Faith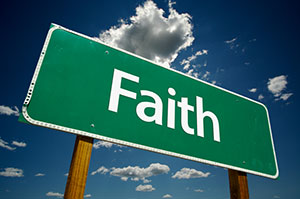 Most of us face a roller-coaster life. We have our ups and downs, our trials and tribulations. We sometimes feel tempted to say things we shouldn't, and we are sometimes unable to put that chocolate chip cookie down when we know we should.
We live in a world where there are temptations all around us. That little voice in our head tells us to do it, when our intuition says it would hurt us. We are sometimes left conflicted and double-minded.
But when we have faith we act and speak wisely. Faith helps us to choose the path of wisdom and it instills insight. When we choose to think negatively, and turn away from faith, that is when obstacles enter into our life.
Faith is like radar that sees through the fog ~ Corrie Ten Boom
I have found the best way for me to live a peaceful, happy, and drama-free life is to always start out my morning with prayer and meditation, and hear what God is saying to me for the day. It helps lead me to where I need to be. When I forget to do this I quickly get on the wrong path. I even become tempted to eat the wrong things, and many times I do and say things that wouldn't be pleasing to God.
We all have these types of days, but one thing we can do to remain strong and live a life that is full of meaning, wonder and happiness, is to keep our faith strong by sharing it with others. It doesn't have to be preaching on a street corner! However, if that is your calling, by all means go out and spread the good news. Sharing your faith can simply be done through small random acts of kindness – maybe a smile or hug given to someone who's in need of one. I share my faith with others through seeing and feeling, and being empathic to what is going on in their lives, and really connecting with them.
Faith has helped me control my tongue and separate myself from this world. When I was younger, I was so inundated with things that to my way of thinking today really doesn't matter. When we have faith, we really see clearly and can think clearly and are in touch with what matters most, which is unconditional love and living with patience.
When I walk in faith, it seems my prayers are answered more readily. When I lose faith it seems I'm alone and on my own, and I don't feel I have spiritual assistance when I need it, which I do often. I simply cannot navigate in this world in which we live without faith. It's for me like driving a car with blinkers on – I usually end up going down the wrong path.
Faithless is he that says farewell when the road darkens. ~ J.R.R. Tolkien
Someone close to me recently said: "How come I feel so dead inside? When I am around others who are hurting I cannot connect with them and just feel numb. I feel a lack of concern for others." I asked this person if he prays, but it turns out that he doesn't practice any form of spirituality or belief in any higher power whatsoever. I started praying for this person and last night received an email from him telling me he had a dream of an angel who came to him and poured oil on him. Apparently he woke up wanting to have a deeper faith in what he was raised with, which for him was the Catholic faith.
I was all smiles reading this. I'm not Catholic, but I do pray the Rosary, so I had that in common with him. It's a great meditation tool. I was happy that God touched him and he certainly did receive when he asked. It's so true that if we seek, and we seek with faith, we truly shall find something deeper to enrich our lives. It helps us to get through our time on this planet with meaning, and share love, kindness, gentleness and happiness – which is what this world so needs more than ever at this time.
May your Faith, in whatever form it is present in your life, be your light to see clearly in this often times dark and troubling world in which we all co-exist. Let your light shine on.

About The Author: Moon Goddess

Moon Goddess is a third generation empathic healer and seer. She started to give healing readings to people more than 20 years ago. She has always been interested and studied all things metaphysical from a young age. Being hypersensitive she can feel and see things before they happen. Utilizing the Tarot, and with the help of her Guides, she is a source of support for many people all over the world. After he passed over, her grandfather kept his promise and came back to say goodbye and gave her the most amazing experience. Moon knows there truly is a Heaven, and it is wonderful! Sharing her experience has helped many people after they have lost someone, or anyone experiencing some form of grief. Get a reading with Moon Goddess now at PsychicAccess.com.