What The Mind Believes, The Body Perceives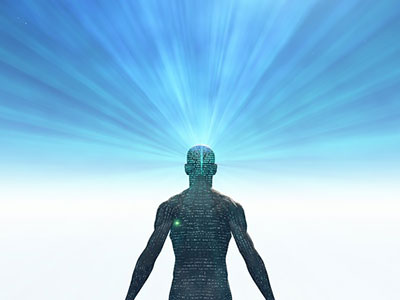 What your mind and heart believe your body perceives. Our self-talk and mind-chatter play a vital role in optimum health in body, mind and spirit.
If we wake up in the morning and tell ourselves, "I'm really feeling lousy, I'm still tired. I really don't want to get up and face this day," you can be sure that the body will respond in just that way. You will be moving slowly, feeling every ache or pain twice as intensely. That kind of self-talk can even affect digestion by slowing it down, because that is what you are telling the body to do with this kind of negative thinking. By thinking, "I really don't want to move fast," the message the body receives is to slow down. The body will always comply with the thought process.
If constructive thoughts are planted positive outcomes will be the result. Plant the seeds of failure and failure will follow ~ Sidney Madwed
It is the same when you look in the mirror and pick out everything you believe to be wrong with your face and body. You will proceed to walk around with slumped shoulders and pick out cloths to wear that day that compliments your negative body image. You will not be happy or confident.
The old saying "fake it until you make it" has some validity in this kind of situation. When you put a fake smile on your face, it doesn't take long for the body and the heart to respond in a positive way.
For example, when someone is going to the hospital for surgery, they should start giving themselves positive self-talk about the outcome even before they arrive in the hospital's parking lot. They will go through the procedure much better if they do this. If that person says to themselves, "I will be okay through this procedure. I will wake up and all of my vital signs will be excellent and I will have a quick recovery," the mind has set the stage for success.
The mind plays a huge part in the healing process. The proof is in the pudding. I experienced this myself in a profound way. About ten years ago, I was to have gallbladder surgery. I admit I was a little nervous about it. I am a hypnotherapist and have pre- and post-surgery CDs, so I stared to listen to them about two weeks before the surgery.
Right up until the time of the surgery, I was focusing my mind on positive thoughts with the help of those CDs. By the time I went into the operating theater, the anesthesiologist asked me how I managed to stay so calm. I simply said, "I am using self-hypnosis for a positive outcome."
You have powers you never dreamed of. You can do things you never thought you could do. There are no limitations in what you can do except the limitations of your own mind ~ Darwin P. Kingsley
Well, to make a long story short, the surgery was performed at 9:30am and I was dressed and on the way home at 11:30am that same day! In fact, it went so well, I was hungry and had a sandwich on my way home. I was joking at the time that I had my surgery done at the hospital 'drive thru.' I was back at work within three days. I was prescribed pain medication and never had to take it at all.
The power of the mind to help heal the body is truly amazing. My personal belief is we come into this world at a designated time and exit the physical world at the designated time. I don't believe a person can change that time.
The things we can control or change is how we treat the body mind, mind and spirit we were given. It is all about the choices we make; our own free will. We can choose to look at the glass half empty, or look at the glass half full. We always have the choice what thoughts we choose to let reside in our mind.
It is so true that what the mind believes, the body perceives. You are worth it, so try to switch your mind to positive thoughts in all situations.

About The Author: Elizabeth

Elizabeth's talents go back several generations. She found her own gifts and embraced them at an early age, recognizing the difference between herself and most others around her. She's since honed and mastered many metaphysical practices, providing hypnotherapy, Psychic Mediumship, Mysticism, and Hypno-Reiki to her clients in Maine, and in areas around the US and in Canada, where she travels. A lover of pets, they are her greatest teachers and these unconditionally loving creatures often chime in on a reading in addition to the Angels, Guides and loved ones who provide resolution and answers for each of her clients. Elizabeth is also an author with much spiritual wisdom to impart and is currently working on a book. If you'd like to be a recipient of her unique Psychic Wisdom, find peace and receive answers that will also benefit your highest good, you can reach Elizabeth at Psychic Access.