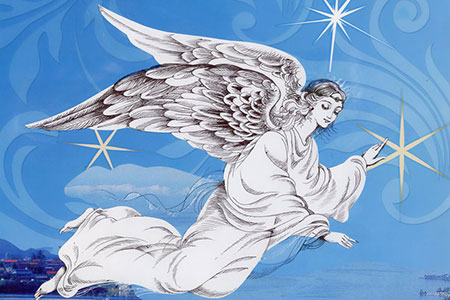 Instead of doing my usual Tarotscopes for the month, I felt guided to work for December with my Healing with the Angels Oracle Cards by Doreen Virtue.
December celebrates the anniversary of the birth of Jesus, and I thought a message from the Angels would benefit not only those of the Christian faith, but also those who believe there is more to this life than meets the eye.
Whatever your belief or your faith, I hope that your Angel card for this month brings you an inspirational or healing message to carry with you into 2020
ARIES (Mar 21 – Apr 20)
Retreat
Taking a step back from the stresses and strains of your daily life may be what's best for you this month, Aries. Perhaps you've been overdoing it by shouldering all the responsibility for making the festive season joyful for others, but neglecting your own well-being. Do what you can to delegate, as others may be only too happy to help when asked. Make time for a massage, nail treatment, meet up for coffee-and-cake with friends, do anything that gives you quality a 'time out.' Retreat also relates to calming your mind by retreating to a quiet, peaceful space, settling in a comfy chair, or laying on your bed, closing your eyes and breathing deeply. Why not make this a New Year's resolution? You deserve it.