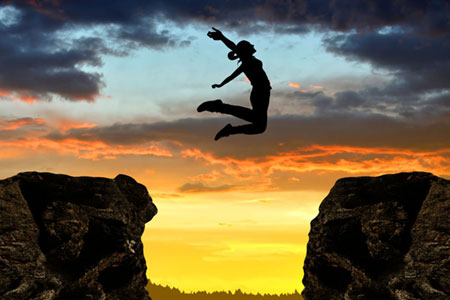 I once read about a woman in a very unhappy relationship. She sought counsel from a highly-revered spiritual leader. In a calming tone, the spiritual guru cautioned that in order to gain marital happiness, the woman would need to let go of the partner she lacked happiness with.
The woman confusingly gazed upon the sage, with her hands tightly tucked under her chair. Again, the holy man repeated that in order for the right man to walk through the door, she would need to let go of the wrong man.
Even more puzzled, the woman confided that she was afraid of being alone. Her teacher, taken aback, turned to the woman and announced that fear was a disease of the mind and the heart –  if allowed, fear would keep her in a state of perpetual unhappiness.
How many times have you missed out on life's many blessings, because you were afraid of moving to a new place, changing career lanes, or ending a relationship with someone who did not honor your greatest dreams? Each of us has experienced these moments of stalemate consciousness in our lives, and each of us has become crippled by fear at some point.
Let me remind you that while a lack of confidence might only slow down your dreams, fear will completely get in the way of the manifestation of your greatest desires and goals. Without personal growth and courage, the formula will not change, and your life will remain the same.