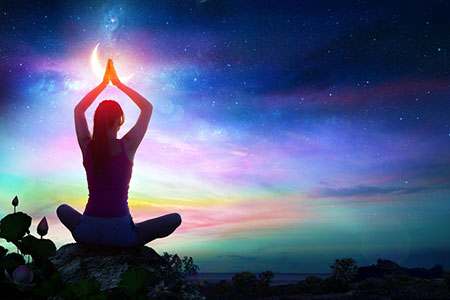 The Moon affects all life on Earth and paying attention to her phases, and planning accordingly, can be especially useful in our spiritual practice and in manifesting our wishes and desires.
You can improve your life circumstances by planning events or personal prayers for manifestation around the phases of the Moon. It is also useful in the clearing of unwanted energetic influences.
Throughout the ages, in many belief systems, the Moon is seen as a Lunar deity or goddess. I regularly meditate on her divine presence, while attending to what I wish to manifest within the timing of the lunar energy.
The power of the monthly phases of the Moon can be utilized for manifesting as follows:
New Moon
The phase of the Moon when it first appears as a slender crescent, shortly after its conjunction with the Sun. A time of preparing one's goals to manifest.
Waxing Moon
A few days after the New Moon one can see a clear crescent lit by the Sun. This is a perfect time for manifesting anything you wish to increase in matters of finances and career. It is also a perfect time for planting all seeds. Remember, the period from the New Moon to the Full Moon are the days of increase.