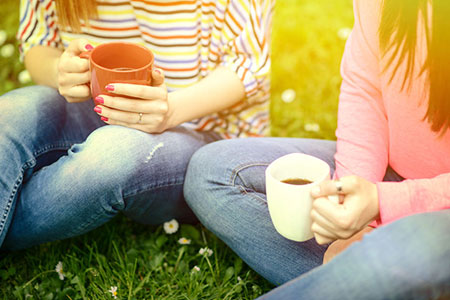 I love when you meet a new friend and they are on the same wavelength. It usually feels like you have known them forever and you can just talk for hours, completely losing track of time. Time does fly when we connect with those who are in the same soul group.
I recently had the rare experience of talking with someone who, like me, is also intuitive, emphatic, sensitive, and loves the Tarot and crystals. It was a blessing and rare opportunity to talk to someone with whom I have so much in common on a spiritual level.
We soon discovered that we have both learned to set up healthy boundaries in our lives, including with our in-laws. We also lived in the same city for the first five years of our lives. There are also many other personal things we have in common.
I call this state of resonance with someone or something 'to be in zen.' When we are in zen with someone, we are connecting with a kindred spirit. It happens smoothly and easily, as our energy is in alignment with our own truth and theirs. No hang-ups, no snares, no issues, no resistance.
I also believe we are divinely guided towards those who share our soul group. Like attracts like, and this creates a positive domino effect with everything just smoothly energized and aligned. Our health, happiness, well-being benefit from it on all levels.
My Spirit Guide once put it to me like this and it makes perfect sense: "When you go through life not recharged or reenergized, you tend to not connect well spiritually." There are many ways to recharge our spiritual batteries, including meditation, a healthy lifestyle, being charitable, and so on.