Do Animals Reincarnate?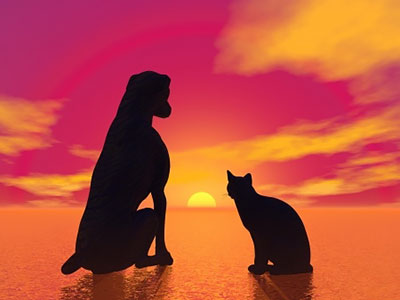 Do animals reincarnate? As an animal lover and pet owner, I believe they do!
John Edward, the well known psychic medium, once talked about how his dog had come to him in a dream after it passed. Apparently the dog told him he would be the new dog "with the black spot." Soon after, John went to a friend's house who had a litter of puppies. He really connected with one of the little dogs – it followed him around everywhere he went. However, none of the puppies had a black spot on them. John's wife took pictures of him with the puppy, because she too felt the connection. Later they left, without taking any of the puppies. When the film was developed, there was a black mark on one of the photographs! The black stain appeared in the image over the puppy he had such a special connection with. John immediately went back and got his beloved 'new' dog.
If having a soul means being able to feel love and loyalty and gratitude, then animals are better off than a lot of humans ~ James Herriot
My friend's dog, Inky, was all white, with an unusual dark spot on his back. He also had a distinct personality and would follow every day her on her walk to work, until she would turn and say, "Inky, go home." When he passed away at a young age, my friend was devastated. I remember her saying she was on the floor for days, crying, curled up in a fetal position.
A few months later she walked by a pet store. There was a bunny in the store who looked exactly like Inky. It was all white, with the same distinct ink pattern on its back. My friend adopted the bunny, who also turned out to have the same personality as Inky. He would follow her on her walk to work, until she would say, "Bunny, go home."
My first cat was adopted from a shelter. She had grabbed me with her claws when I walked past her. I took that as a sign. When I held her, I felt an instant connection. Then I asked the staff what her name was and discovered that it was my birth name! I have never before heard of any animal who had my name. It was another sign.
That cat and I had an unusual relationship, that my friends and family would even comment about. We had full conversations. I would say, "Boo, you can't go outside right now. There is a scary dog out there." She would then argue with me in a demanding tone, "Meep, meep, meep." Then I would repeat myself and she would stand there and continue to argue with me. Eventually, she would give up and "meep" down the hallway… clearly irritated. I would say, "I love you, Boo." Then she would say, "meowwwwww" in a low, loving tone.
The cat may disappear on its own errands, but sooner or later, it returns once again for a little while, to greet us with its own type of love ~ Lloyd Alexander
She lived 17 years. She held on as long as she could. Her passing was difficult, because the vet who came to my house kept trying to put her to sleep, but it wasn't working. I knew she wanted to stay with me and I wanted her to stay, but I told her she needed to go. Her body had simply shut down and she could not longer stand anymore.
I waited few months, to insure she had time to come back, then I adopted two beautiful cats. But I didn't feel that either one was my Boo kitty. While the adoption assistant went to fetch my paperwork, one of the other kittens at the shelter somehow got out of its cage. He climbed all the way up my back. He was black, just like Boo. I then told the adoption assistant I was taking him as well. I knew instantly he was my Boo kitty.
The little black cat was only five weeks old and very sick. My vet begged me not to put money into him. But what my vet did not know is that I do energy work. She told me there was no way he could survive, as he had so many different issues and was weaned too young. It took a lot of money and many energy healing sessions, but my black kitty is now 14 years old and doing well. It was hard for Boo to come back so soon and it took a toll on his immune system, but today he is a strong and healthy feline.

About The Author: Satya

Satya lives in Northern California and is a natural Clairvoyant, Empath, Conduit, teacher, author, animal lover, healer, Reiki Master and an advanced yoga instructor. She has provided valuable psychic assistance to Hollywood stars, athletes, and everyone else in-between. A multi-layered Intuitive, with many unique gifts at her disposal, she can give you a doorway into the past as well as a gateway to a happier future. With her long distance energy work, she provides healing for people and animals too! She instantly spots karmic connections from past lives that directly affect current situations, helping clients to move through them quickly. For accurate solutions on just about any pressing problem, you can find Satya at PsychicAccess.com.